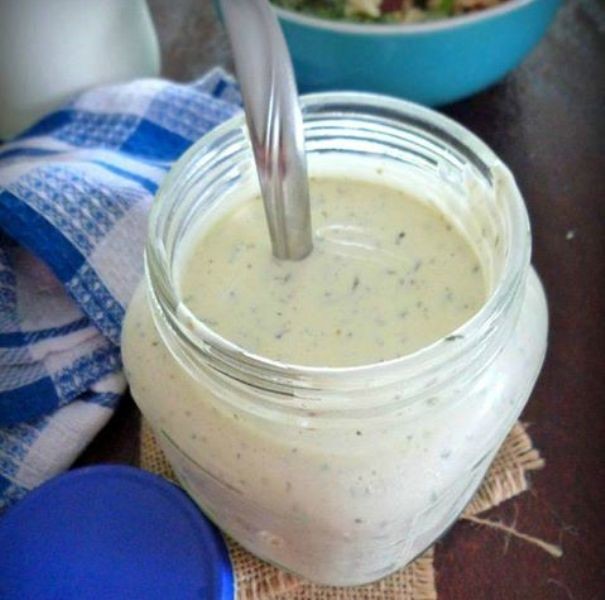 My Homemade Buttermilk Ranch Dressing – DIY is one of the best Ranch Dressing recipes you'll ever get your hands on to date; combining buttermilk, sour cream, mayonnaise, garlic, fresh lemon juice and, of course, onions; with a bunch of other stuff. But you know, it's the buttermilk that counts, because it's in the name and all that.
Although, some people would say that "Buttermilk Ranch Dressing" is a weird thing to name it because Ranch Dressing typically contains buttermilk, I'm not changing the name because the buttermilk content in my Homemade Buttermilk Ranch Dressing is actually pretty high. It's the main ingredient. Also, it's the buttermilk that gives the ranch dressing that perfect creaminess that is absolutely divine. Well, that and the mayonnaise and the sour cream. All the other ingredients bring something else to the table, and that's the flavor bomb.
A taste of my Homemade Buttermilk Ranch Dressing literally is like an explosion going off on your tongue, with all that black pepper, garlic, lemon juice – okay, we've been over this before. As far as I'm concerned, it's the best because it goes with all your salads, pizza, chicken wings and everything else that you could ever need ranch dressing for.
It's created from affordable and easily accessible ingredients (just check your kitchen or the nearest grocery store to you, if you don't believe me), it takes very little time to recreate from scratch; and the best part is how it tastes oh so good!
Weight watchers will be interested to know that my Homemade Buttermilk Ranch Dressing recipe contains only an estimated 44-69 calories for every two spoon serving!
Below you will find the recipe, along with all you'll need, for my amazing Homemade Buttermilk Ranch Dressing – DIY that's simply so delicious, you'll never buy another bottle of store brand Ranch Dressing again!
EQUIPMENT:
There isn't all that much to the Homemade Buttermilk Ranch Dressing, equipment-wise. Sure, you might end up using a number of bowls and spoons, but that's just an occupational hazard. In terms of equipments, all you'll need are:
A whisk
(That's if you'd like to go manual with your mixing, which can take a while to get that smooth paste. So, you'll have to exercise patience too.)
A mixer
(Preferably an automatic one. It'll take less time, it's more effort efficient, and it'll whip up your Homemade Buttermilk Ranch Dressing from all the ingredients in no time. And even if you're going with a mixer, you would still need to have the whisk on hand.)
A refrigerator.
(It goes without saying that it needs to be one in good working order.)
And for the sake of being thorough, you will need one more thing:
A big bowl
(We're talking huge, or at least one that is big enough to contain 1 ¾ Quart of Homemade Buttermilk Ranch Dressing in the making.)
INGREDIENTS:
Black Pepper ¼ C
Parsley Flakes 1 1/2 C
Garlic Salt ½ C
Kosher Salt 2 Tbsp
Granulated Garlic ¼ C
Granulated Onion 3/4 C
Dill Weed 2 Tbsp
2 cups mayonnaise
2 cups buttermilk
1 1/2 cups sour cream
1 teaspoon of lemon juice
One thing I'd like you to note is that the quantities of each of the ingredient stated in this recipe can only be put together to make about 1 ¾ Quart of Homemade Buttermilk Ranch Dressing. If you want to make more, it's not a simple matter of increasing the number of cups of Buttermilk or mayonnaise; you'll have to increase the quantities of each and every one of the above listed ingredients proportionately.
It is still a simple matter, very easy to do. But we both know that things can get very tricky very fast in the kitchen, particularly when you start messing with new recipes. So, if you run into any problems in the course of following this particular recipe – or you hit a snag while trying to tweak the recipe in order to make more quantities of Homemade Buttermilk Ranch Dressing – feel free to consult with us in the comment section, and we'll be sure to get back to you.
INSTRUCTIONS:
I like to kick off these instructions with a little recommendation first. Okay, it's not a little recommendation; it's a big one that has always come in handy for me in all my cooking experiences. The first thing you should do before you start this recipe is to clear your cooking area of all clutter. It helps the overall hygiene, and it also makes things so much easier when you recreate this recipe because you'll now have space to lay out each of those ingredients, after you've put them in individual bowls (Do NOT mix the ingredients together until the recipe tells you to!).
Are you ready?
Take in a deep breath and let's begin!
1- Combine all ingredients, store in an airtight container. Makes about 3 ½ cups of dry mix.
(There's a simple rule in baking, dry ingredients to dry ingredients and wet ingredients to wet ingredients. The same rule applies in the making of my Homemade Buttermilk Ranch Dressing.)
2- To Make Dressing, whisk together 2 Tbsp of mix with 2 Cups each of mayonnaise and buttermilk 1 ½ Cups sour cream, & 1 tsp Lemon Juice. (If your hands get tired, remember what I said about the automatic mixer. But if you're going on that route, you should start off by whisking the ingredients together first, to try and make a smooth paste-like mixture that you can then transfer to the mixer. Set it on medium speed and leave it running for 20-25 minutes. You may have to turn it off at intervals, depending on the type of mixer you have.)
3- Refrigerate for 2 hours. Makes 1 ¾ Quart — with Donette Odom and Becky Jones Anderson
4- Serve on your salads, chicken wings, pizza and all your other foods. Dig in and
enjoy!