The other day we realized that, nine times out of ten, we were making the same salad over and over again. We're not saying that leafy greens, tomatoes and goat cheese, topped off with some olive oil, salt and pepper isn't delicious, but it can get boring when that's the only salad you're making. And if making a salad in general is already kind of a stretch, feeling bored about it won't help incentivize you to make it…which is why we needed to switch things up!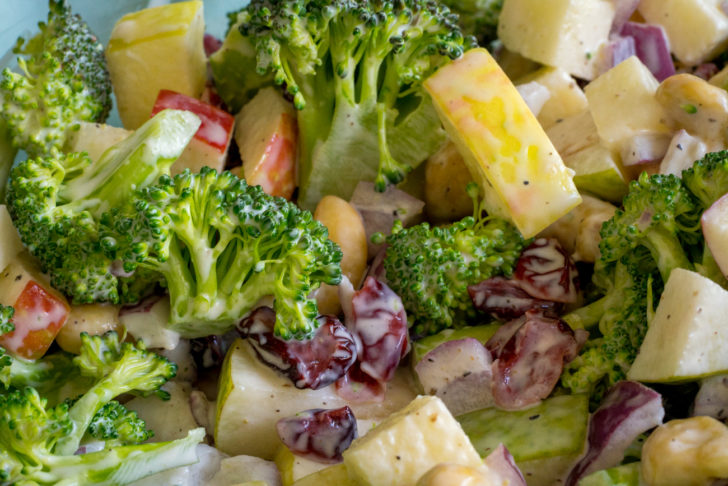 Broccoli Apple Pear Cashew Salad
INGREDIENTS
5 cups broccoli, cut into florets
1 apple, cored and diced
1 pear, cored and diced
1/4 cup red onion, finely chopped
1 cup cashews (toasted, optional)
1 cup dried cranberries
Dressing:
1/2 cup mayonnaise
1/2 cup Greek yogurt
2 tablespoons lemon juice
3 tablespoons honey
kosher salt and freshly ground pepper, to taste
PREPARATION
In a medium bowl, whisk together mayonnaise and Greek yogurt, then stir in lemon juice and honey.
Season to taste with salt and pepper.
In a large bowl, combine broccoli florets, diced apple and pear, red onion, cashews and cranberries, and toss together to combine.
Pour dressing over broccoli mixture, then toss until everything is evenly coated.
Serve immediately or refrigerate for at least 20 minutes, giving flavors a chance to develop and build.