deliciously creamy ham and potato soup is so easy to make! the perfect way to use up your ham leftovers. no heavy cream!
Ham soup filled to the brim with soft, tender potatoes, carrots, celery, onion, garlic and the option of making your own ham broth from a leftover ham bone! Even picky eaters fall in love with this ham and potato soup recipe!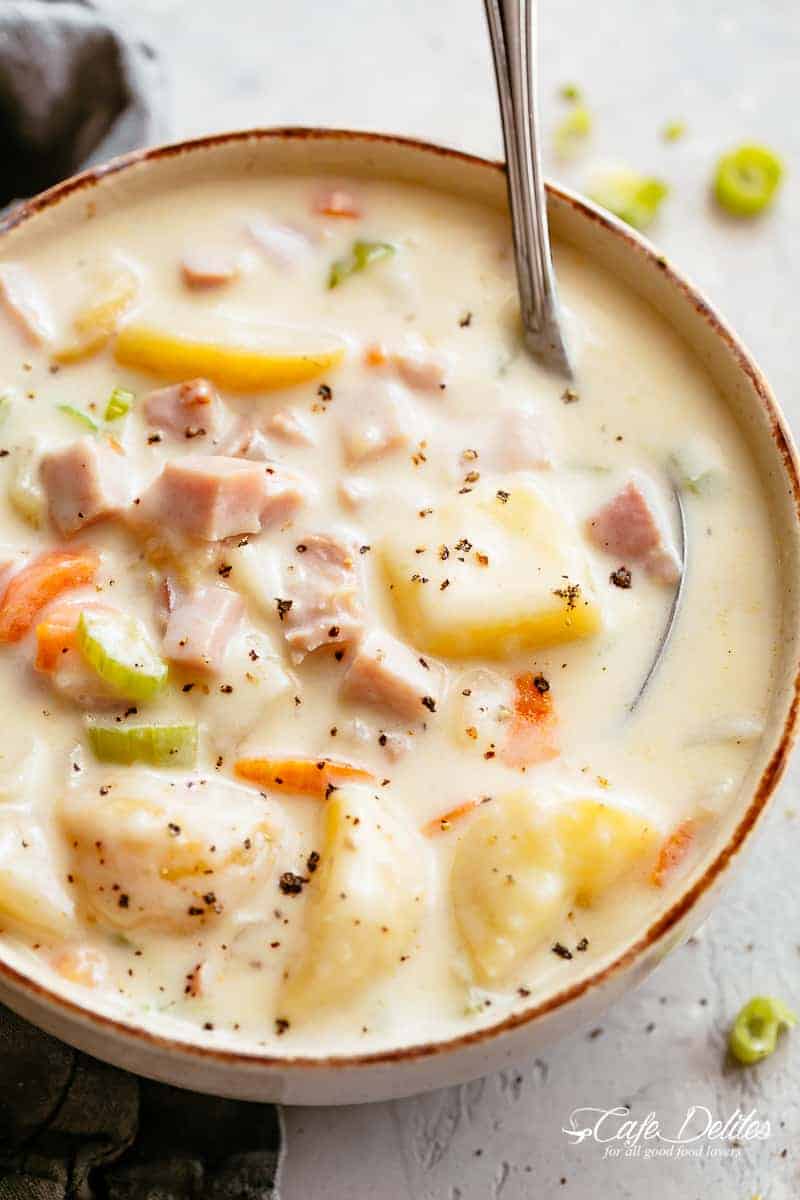 creamy potato soup with ham
There's nothing more comforting than a bowl of hearty, creamy ham and potato soup. All up it takes under 45 minutes (including prep time) to have a pot of full flavoured soup ready and on the table. Perfect for busy weeknights or for when you're craving a hearty meal!
We use leftover glazed ham for our ham soup recipe with a chicken stock base. Flour and milk give us that mouth watering roux and deliciously thick and creamy consistency.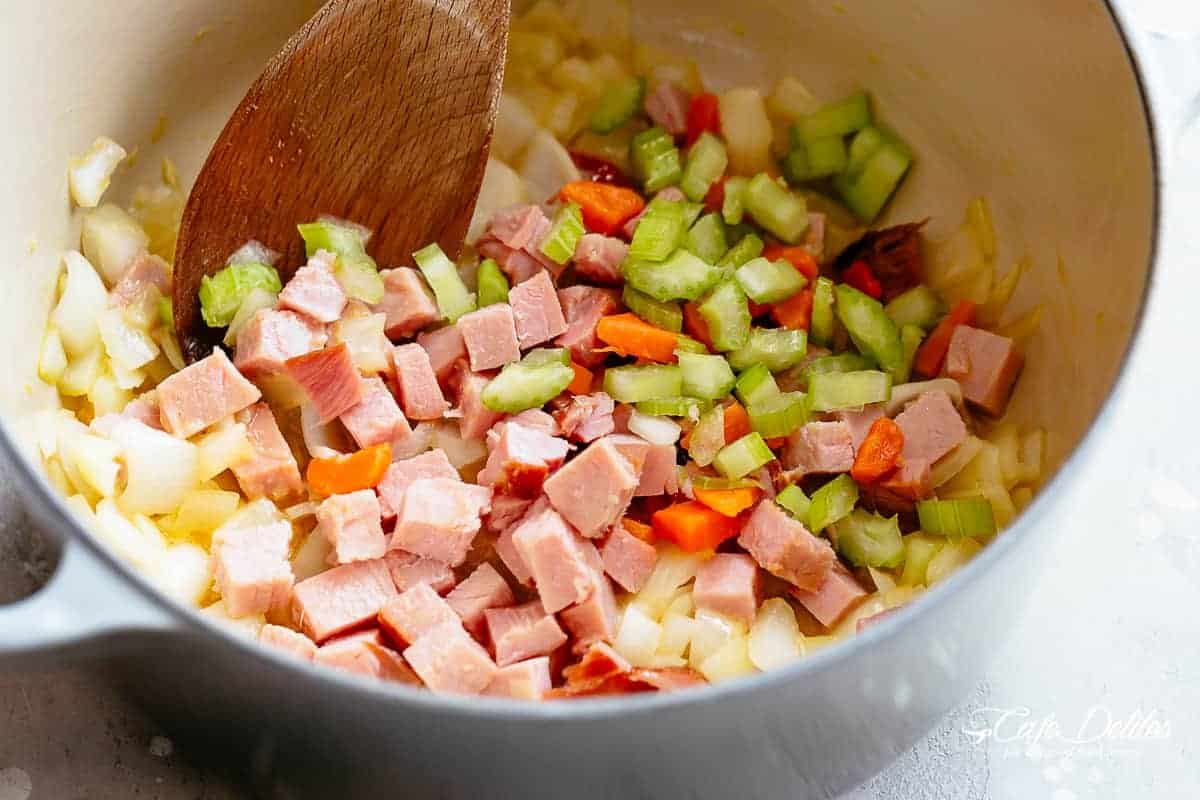 HAM AND POTATO SOUP
Deliciously creamy Ham and Potato Soup is easy to make and perfect to use up any leftovers! Filled with soft, tender potatoes, carrots, celery, onion, garlic and the option of making your own ham broth from a leftover ham bone! The best part? No heavy cream! Picky eaters will ask for seconds!
INGREDIENTS
1/3 cup unsalted butter (2 oz | 60 g)
1 onion finely chopped
1 cup large carrot peeled and diced
1/2 cup diced celery
3 cups peeled and diced potatoes
4 cloves garlic minced or finely chopped
1 1/2 cups cooked ham, diced (add more if desired)
1/3 cup all-purpose flour (plain flour)
2 cups low sodium chicken stock (or broth)
2 teaspoons chicken Bouillon
3 cups milk (whole milk or 2%)
1 pinch of salt, if needed (adjust to you taste)
fresh cracked black pepper
INSTRUCTIONS
Heat the butter in a pot over medium heat. Sauté the onion, carrots, celery until beginning to soften (about 4 minutes).
Add the ham and potatoes, cook for 2 minutes, then add the garlic and sauté until fragrant (about 30 seconds).
Mix the flour through and cook for 2 minutes.
Stir in stock and bouillon, mixing all ingredients together. Increase heat and bring to a boil until potatoes are 'just' fork tender, about 10-12 minutes.
Reduce heat to medium-low, add the milk and stir over the heat until thickened (about 5 minutes).
Taste test and season with salt and pepper, if desired.
Serve warm.
NOTES
HAM BROTH
You can make your own ham broth for ham soup using leftover ham bone:
Simmer the ham bone in a stock pot filled with enough water to cover the bone halfway (about 2 quarts/litres, depending on size of bone).
Bring to a boil, reduce heat, cover with a lid and let simmer until very fragrant (about 1 hour).
Discard hambone
Replace the chicken stock with your ham broth.
TIPS
If your soup is too thick once it's finished, simply add more milk in 1/4 cup increments until reaching your desired consistency.
Alternatively, if your soup is not thick enough to your liking, mix 1 tablespoon of cornstarch together with 2 tablespoons of extra milk.
Pour the mixture into the soup and allow to boil for a few minutes to thicken, while stirring. Repeat for an even thicker soup!
NUTRITION
Calories: 217kcal | Carbohydrates: 22g | Protein: 7g | Fat: 11g | Saturated Fat: 6g | Cholesterol: 31mg | Sodium: 124mg | Potassium: 604mg | Fiber: 2g | Sugar: 6g | Vitamin A: 3085IU | Vitamin C: 12.4mg | Calcium: 145mg | Iron: 3.1mg