This hearty one-pot chicken stew practically cooks itself! It's made all in one pot with tender chunks of chicken and savory veggies. Enjoy it with crusty bread for an ultimate cold-weather meal!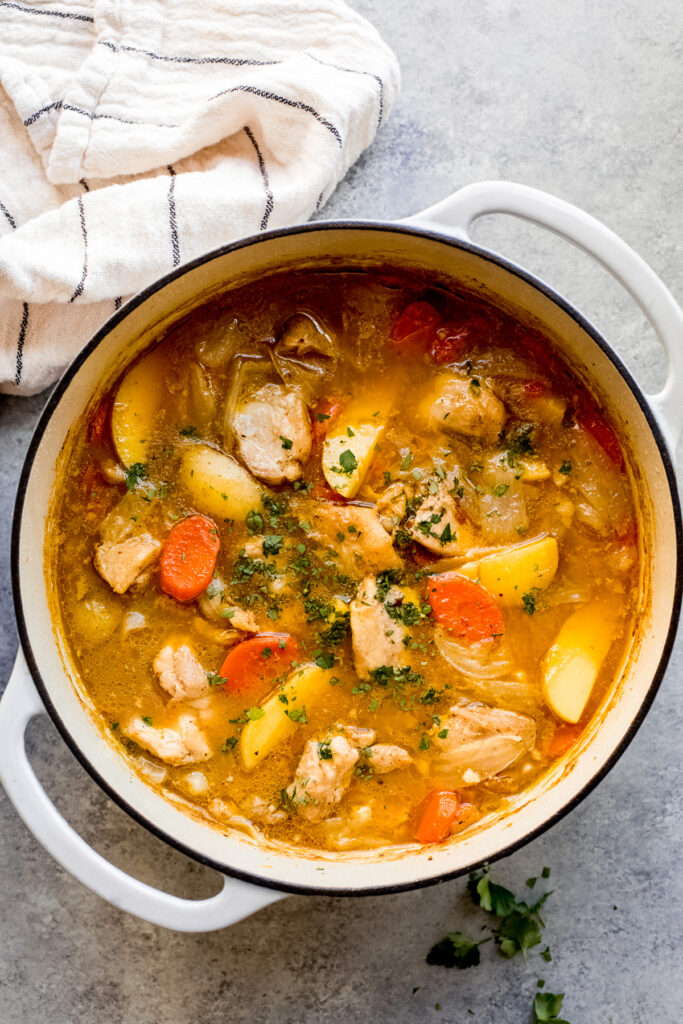 BEST CHICKEN STEW
This chicken stew is a readers' favorite around here. It gets five-star reviews for its rustic, hearty, and delicious taste.
It's a delicious meal made in one pot, with simple ingredients such as tender chicken and veggies –all simmered in the best-seasoned broth. All you need is some crusty garlic bread and you have yourself a perfect comfort meal.
FEW RECIPES NOTES & TIPS
For best results use boneless, skinless, chicken thighs. They have extra flavor after searing and also simmer into tender little morsels. Make sure to cut the thighs into 2-inch chunks so they do not overcook. 
I do not recommend chicken breast in this recipe. It won't be as tender and flavorful as the thighs. Plus chicken breast is easy to overcook.
Many of you have asked if this recipe can be made in a crockpot. Recently I tested this recipe in a crockpot and the result was just not the same. Chicken stew is all about building flavor and texture by searing the meat, then the vegetables and aromatics, which is impossible to do in a crockpot. Therefore, I do not recommend making this stew in a crockpot.