Zucchini Patties, one of the best ways to use up summer Zucchini, fast and easy, onions, parmesan and spices make these so deliciously tasty, the perfect appetizer or side dish.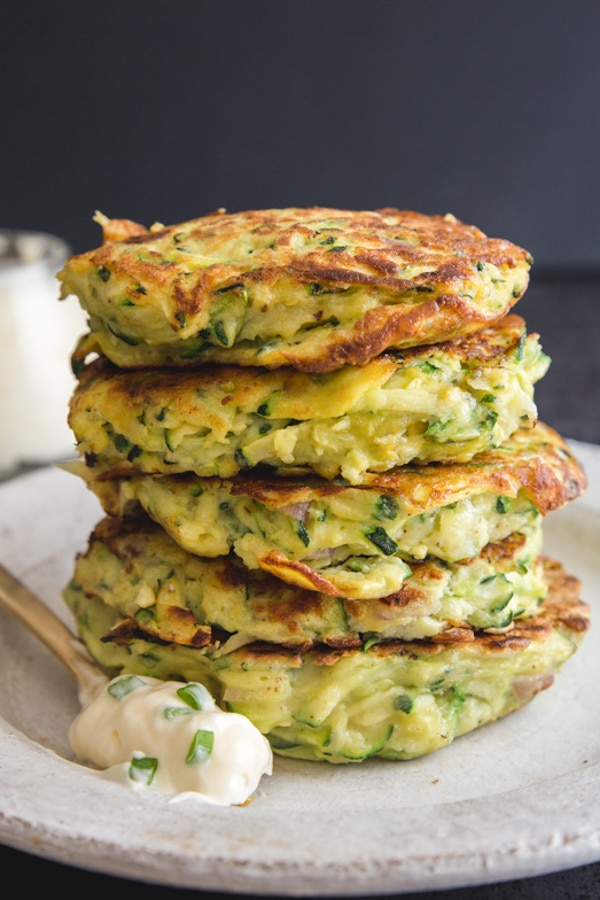 Well now with the start of summer and the start of all those zucchini that could be heading your way, this is one recipe you are going to want to try. Easy Zucchini Fritters.
I have Baked it, Grilled it, I have made it with Pasta and turned it into a Dessert Loaf. And now it is time to shine with Patties. So hello to the do-all-veggie of the summer.
These fritters are the perfect recipe for some of those bigger zucchini that you may have hanging around and not quite sure what to do with it! How many have we discovered hidden under some of those huge zucchini leaves. There are always a few that get away from us!
Zucchini Patties
Zucchini Patties, a delicious, healthy, easy recipe, the perfect side dish, appetizer or even main dish, a yummy way to add some veggies!
INGREDIENTS
2 cups grated zucchini well-drained* (approximately 3 medium zucchini)
1 tablespoon finely chopped onion
1/4 cup Parmesan cheese (25 grams)
1/4 cup flour (32 grams)
2 large eggs
2 tablespoons mayonnaise
1/4 teaspoon oregano
1/4 teaspoon salt
1-2 dashes black pepper
1-2 tablespoons olive oil
*wring out excess moisture with hands
INSTRUCTIONS
In a medium bowl mix together all ingredients except for the olive oil.
In a medium to large frying pan over medium heat, heat the olive oil. Drop a heaping large spoonful of the mixture, cook until browned on both sides.
Drain on a paper towel lined plate for a couple of seconds then serve immediately. Enjoy!
NUTRITION
Calories: 126kcalCarbohydrates: 4gProtein: 3gFat: 10gSaturated Fat: 2gCholesterol: 84mgSodium: 150mgPotassium: 137mgSugar: 1gVitamin A: 240IUVitamin C: 8.9mgCalcium: 80mgIron: 0.6mg