This Cajun grilled salmon recipe is a sweet-and-spicy seafood meal that's ready in just 15 minutes. The salmon is moist and flaky and topped with melt-in-your-mouth honey butter that is bursting with flavor!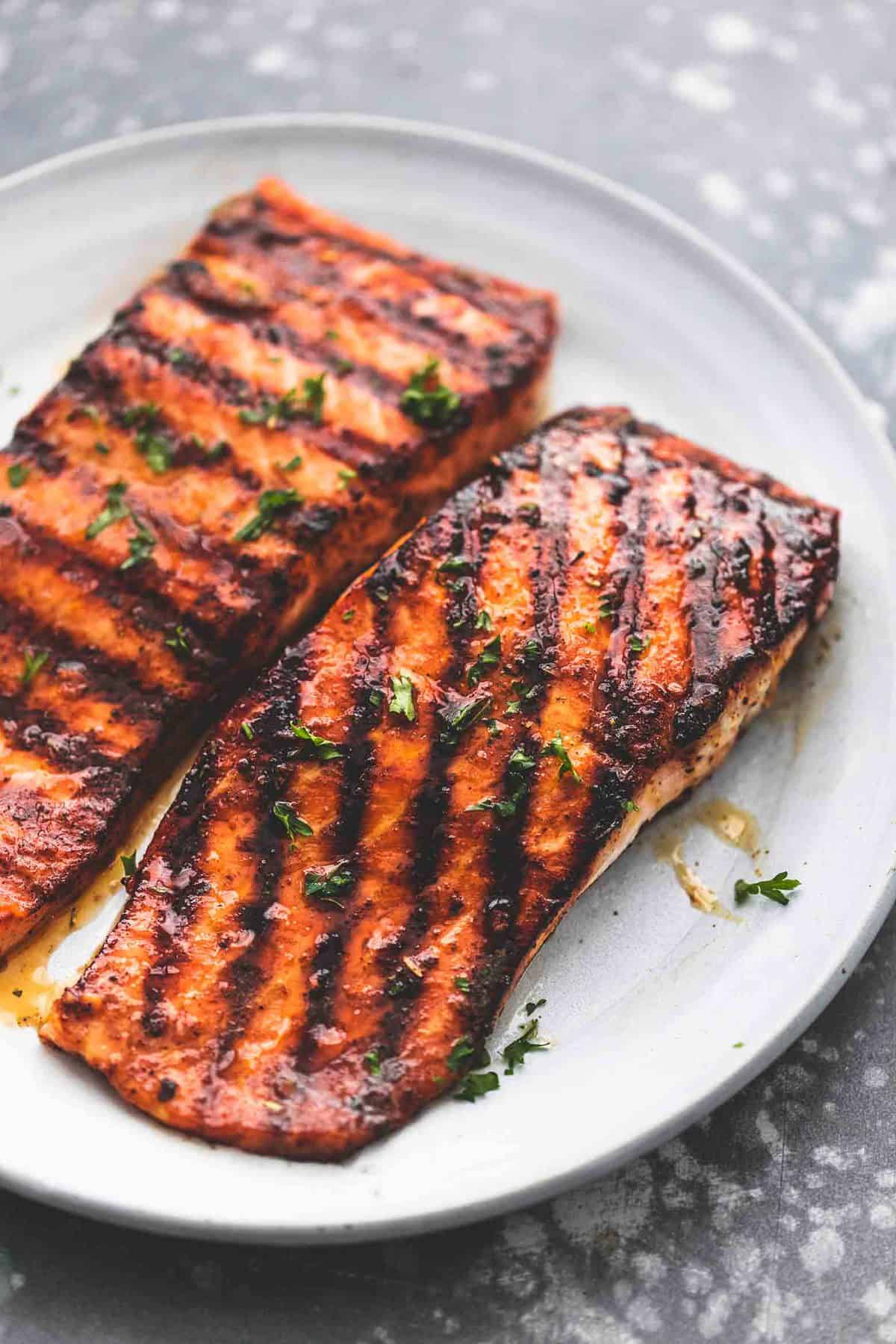 When it's warm, I want to try to eat outside as much as possible, in an effort to try to soak up all that summer down deep in my skin to hopefully last all fall and winter long. And being outside means cooking outside.
So, we fired up the grill for some spicy salmon fillets with a delicious Cajun seasoning, butter, honey, and a few other odds and ends.
The great thing about this grilled salmon recipe is it grills up so fast and it's really easy to season, plus, the Cajun spices are easy to pull together, and you probably wouldn't be upset with yourself if you made extra and kept on-hand for future recipes (hint, hint).
Ingredients
3 Salmon Fillets
1 tbsp Olive Oil, divided
1 tsp Dried Parsley Flakes
1 tsp Garlic Powder
1 tsp Onion Powder
1 tsp Smoked Paprika, or Regular Paprika
2 tsp Cajun or Creole Seasoning
1/4 tsp Freshly Ground Black Pepper
1/2 tsp Salt, more or less to taste
4 tbsp butter, softened or room temperature
3 tbsp Pure Honey
Fresh Parsley or Cilantro Leaves for Garnish, as desired
Instructions
Preheat oven to 400 degrees Fahrenheit.
In a small bowl, combine all the dry seasoning – dried parsley flakes, garlic powder, onion powder, smoked paprika or paprika, cajun seasoning, black pepper, and salt and set aside.
In another bowl, combine butter and honey, mix until well combined, set aside.
Pat dry salmon, then add a drizzle with olive oil on each fillet.
Season both sides of salmon generously with dry seasoning, and add a squeeze of fresh lemon juice.
Add a drizzle of olive oil to a skillet or oven-safe dish and place salmon fillets in the pan with a dollop of honey butter on each – do not overcrowd your pan. Set aside the remainder of honey butter.
Depending on the thickness of your salmon, bake for 10 -12 minutes or until flaky and internal temp reads 145°F.
When salmon near done, around the 7-8 minute mark, add the remainder of honey butter to the skillet.
Remove from oven when done, spoon the sauce overtop of salmon, garnish with fresh parsley or cilantro and serve.