This is my favorite recipe for carrot cake! It is 100% made from scratch, easy to make, versatile, and utterly delicious. One of our most popular recipes! Just read all the rave reviews! Jump to the Easy Carrot Cake Recipe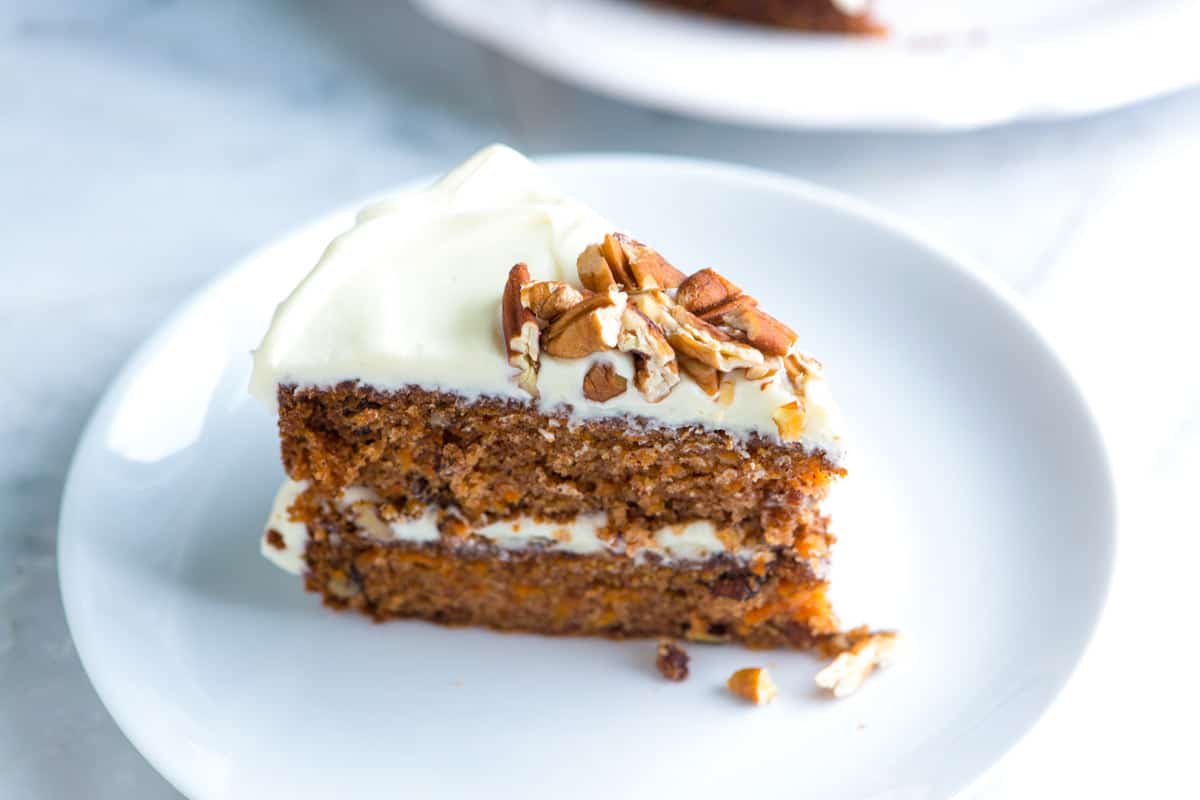 How to Make Carrot Cake From Scratch
This carrot cake is quick, easy to make, and utterly delicious. It wasn't until recently that we realized just how much we love carrot cake. It wasn't something either of us grew up eating. Thanks to this easy recipe, we fell in love. You can make this cake quickly without lots of fancy equipment. Not only is this the best tasting carrot cake we've made, but it's a cinch to make. 
Incredibly Moist and Easy Carrot Cake
This is the best carrot cake recipe I've ever used. We prefer to use a hand grater when preparing the carrots since it creates delicate carrot shreds that melt into the cake batter. Pre-shredded bags or shredding carrots using a food processor are also options, but the carrot shreds will be larger.
This recipe is forgiving. You can make this with or without the nuts or raisins. We love the combination of granulated and brown sugar, but if you only have one of them, use it, and the cake will still be delicious.
Frosting: Our creamy frosting recipe shared below is not a traditional cream cheese frosting. Thanks to whipped cream, it's creamier and has soft peaks (you can see it in our video). We love it, but if you prefer a more traditional frosting, see the tips section below the recipe. We have provided instructions for a classic cream cheese frosting that works nicely with this cake. Makes 1 (9-inch) double layer cake (16 thin slices) or 22 to 24 cupcakes
YOU WILL NEED
FOR CARROT CAKE
2 cups (260 grams) of all-purpose flour
2 teaspoons baking soda
1/2 teaspoon fine sea salt
1 ½ teaspoon ground cinnamon
1 ¼ cup (295 ml) canola or other vegetable oil
1 cup (200 grams) granulated sugar
1 cup (190 grams) lightly packed brown sugar
1 teaspoon vanilla extract
4 large eggs, at room temperature
3 cups (300 grams) grated peeled carrots, 5 to 6 medium carrots
1 cup (100 grams) coarsely chopped pecans
1/2 cup (65 grams) raisins CREAMY FROSTING
8 ounces (225 grams) of cream cheese, at room temperature
1 ¼ cups (140 grams) powdered sugar
1/3 cup (80 ml) heavy whipping cream
1/2 cup (50 grams) coarsely chopped pecans, for topping cake
DIRECTIONS
MAKE THE BATTER
BAKE CAKE
TO FINISH
TIPS
Frosting Substitute — Traditional Cream Cheese Frosting: In a large bowl, beat 16 ounces of cream cheese and 1/2 cup of softened butter together for a minute or two until smooth. Add 4 1/2 cups of powdered sugar, 1 1/4 teaspoons of vanilla extract, and a pinch of salt. Beat for 2 to 3 minutes until extra creamy. If it is too thick, add 1 tablespoon of cream or milk.
How to Make Carrot Cake Cupcakes: For cupcakes, we'd recommend baking for 14 to 18 minutes (or until a tester inserted into the center of one comes out clean). Then let them cool for a few minutes in the cupcake pan before transferring them to a cooling rack. The recipe should make 22 to 24 cupcakes.
Using a bundt pan: We have never done this in our kitchen, but a 10-cup or 12-cup Bundt pan should be fine for this recipe. You will likely need to increase the baking time by about 30% in the 10-cup pan, somewhat less in the 12-cup.
Using a 9-inch by 13-inch pan rectangular pan: Simply add all the batter to the rectangular pan and bake. Bake time may be slightly longer.
Recipe inspired and adapted from Smitten Kitchen's Recipe for Carrot Cake Cupcakes.
Nutrition facts: The nutrition facts provided below are estimates. We have used the USDA database to calculate approximate values.