Juicy oven-baked chicken breasts are full of flavor and made with just a handful of ingredients. An easy chicken dinner idea that's on the table in 30 minutes!
QUICK AND EASY BAKED CHICKEN BREASTS
Quick and easy baked chicken breasts recipe made with a bit of butter, some brown sugar, and garlic. This Baked Garlic Brown Sugar Chicken is a super simple dish you can prepare in very little time, perfect for a fast and delicious weeknight meal. It's also freezer friendly and requires minimal prep.
I have forever and always been a big lover of baked chicken breasts dinners. Thus, I spend a lot of my cooking time focused on creating tender and juicy chicken recipes; HELLO Easy Baked Chicken Breasts – the BEST easy-chicken recipe of all the times!
I know it's not rocket science, but, as simple as it sounds, baked chicken breasts can turn out dry as can be if you don't give 'em some prep-love.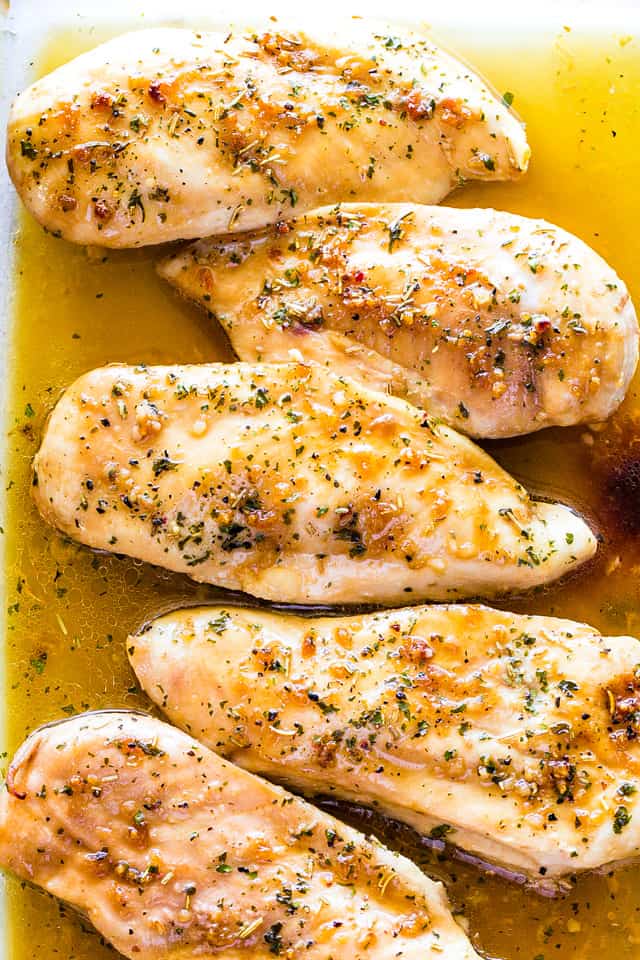 Therefore, ENTER Garlic Brown Sugar Baked Chicken! It is a terrific baked chicken breast recipe, one you'll go back to again and again. It's slightly sweet with just a bit of spice, and the flavors are SO perfectly perfect together.
INGREDIENTS FOR THIS BAKED CHICKEN BREASTS RECIPE
Chicken Breasts – pounded to an even thickness, about 1-inch thick.
butter
light brown sugar – you can also use dark brown sugar for deeper flavor
garlic
seasonings
Garlic Brown Sugar Baked Chicken Breasts
Juicy, beyond DELICIOUS oven-baked chicken breasts full of flavor with just a handful of ingredients and on the table in 30 minutes!
Ingredients
▢1 pound (4 ounces each) boneless skinless chicken breasts, pounded to an even thickness (about 1-inch thick)
▢salt and fresh ground pepper to taste
▢3 tablespoons butter
▢4 cloves garlic, minced
▢1/4 cup light brown sugar
▢1 teaspoon paprika
▢1 teaspoon dried oregano, or any other dried herb of your choice
Instructions
Preheat ovthe en to 450°F. Line a 9×13 baking dish with parchment paper or aluminum foil.
Season chicken breasts with salt and pepper; transfer to pra epared baking dish and set aside.
Add butter and garlic to a skillet set over medium-high heat; cook and stir until butter is melted and garlic is fragrant.
Stir in brown sugar, paprika, and seasonings; continue to cook for 1 minute, stirring frequently.
Remove from heat and let stand 1 minute, or until cool enough to handle.
Rub the brown sugar and garlic mixture all around the chicken breasts.
Bake uncovered for 20 to 25 minutes, or until browned on top and chicken's internal temperature reaches 165F. Remove from oven and serve immediately.
Notes
HOW TO MAKE AHEAD
You can prep this ahead of time by preparing it up to the point before baking it. Just let the brown sugar mixture cool down completely; then rub it all over the chicken breasts, cover the dish tightly, and pop it in the freezer.
You can also freeze it in a gallon Ziploc bag, then thaw it in the fridge overnight. When it's time to cook, arrange the chicken breasts in a parchment-lined baking dish and cook.
You can also prep it the night before, cover it tightly, and set it in the fridge until ready to cook the next day.