An easy, from scratch, fudgy brownie is baked into a tart pan and topped with a classic coconut-pecan German frosting for a decadent dessert you won't be able to resist!
It was my birthday last week and that makes me an Aquarian. And like all water-bearing astrological believers, that means I have an affinity for chocolate.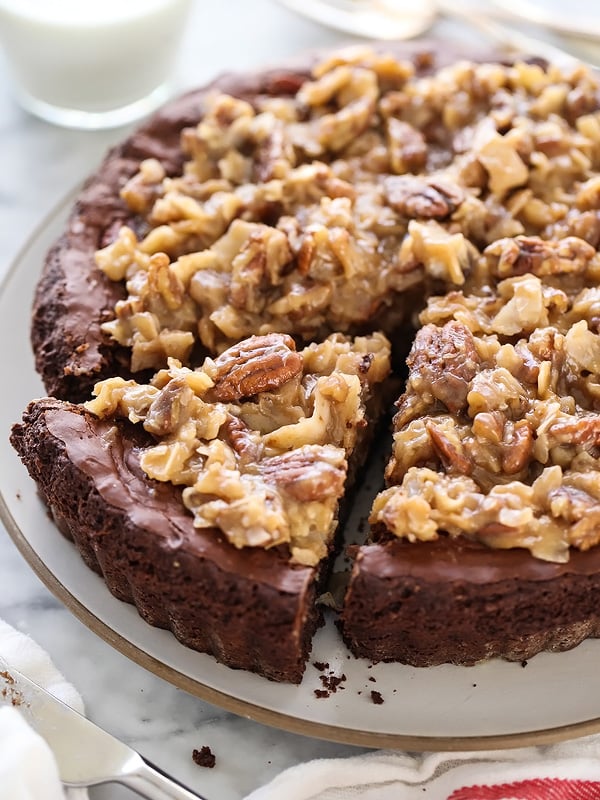 I know! I didn't know that was an astrological trait either. But just look it up online. That fact is sure to be attributed as truth out there somewhere. Or at least…it is now.
I get it from my mom. We're both chocolate lovers. I can pass all day long on vanilla cupcakes and caramel dripping anything. But slip a piece of chocolate in front of me, and I melt.
So it makes complete sense that when the stars align, this Aquarian's all-time favorite birthday tradition is a toast of German chocolate flavored anything and everything. Cake. Jars. Heck, toss me a bite size ALMOND JOY bite-size bar and look at me go all weak in the knees like a lovelorn 13 year old who just set eyes on her crazy crush.
German Chocolate Brownie Pie
An easy, from scratch, fudgy brownie is studded with HERSHEY'S semisweet chocolate chips, baked into a tart pan and topped with a classic coconut-pecan German frosting.
Ingredients
For the Brownie Pie
6 tablespoons unsalted butter ¾ of a stick
3 cups HERSHEY'S Semi-Sweet Chocolate Chips 18 ounces
3 eggs
1 cup sugar
1 tablespoon instant espresso powder
1 teaspoon vanilla
⅔ cup all-purpose flour
¼ teaspoon kosher salt
¼ teaspoon baking powder
1 cup chopped pecans
For the Frosting
1 cup evaporated milk
1 cup sugar
3 egg yolks
½ cup butter
1 teaspoon vanilla
2 cups shredded sweetened coconut
½ cup chopped pecans
Instructions
For the Brownie Pie
Preheat the oven to 350 degrees F.
Spray a 9 1/2-inch tart pan with a removable bottom with cooking spray and lightly flour the pan, shaking to remove excess.
Melt the butter and chocolate chips in a glass or metal bowl over a pan filled with 1 inch or so of simmering water. Stir until the butter and chocolate chips have melted and the mixture is smooth. Set aside to cool.
Beat the eggs, sugar, instant espresso and the vanilla extract in a stand mixer until blended. Add the cooled chocolate mixture and blend to combine. In a smaller bowl, stir together the flour, baking powder and kosher salt and then add to the bowl of the stand mixer and mix just until combined. Stir in half of the chopped pecans and pour into the prepared pan. Top with the rest of the chopped pecans.
Bake for 34-45 minutes or until the top begins to crack and the middle is somewhat set but still soft. The pie will deflate somewhat as it cools.
Top the brownie pie with the frosting. Remove from the tin and serve cake at room temperature.
For the frosting
Add the yolks to a small saucepan and beat with a hand mixer until yolks thicken and begin to ribbon, about 2-3 minutes. Add evaporated milk, sugar and vanilla and mix. Add butter and bring to medium heat, stirring constantly, for about 10 minutes or until mixture becomes golden brown and thickens. Remove from the heat and add the coconut and pecans. Cool to room temperature and frost your pie, cake or cupcakes..