This Mississippi Mud Cake is a delicious homemade chocolate cake, topped with melted marshmallows and warm chocolate frosting.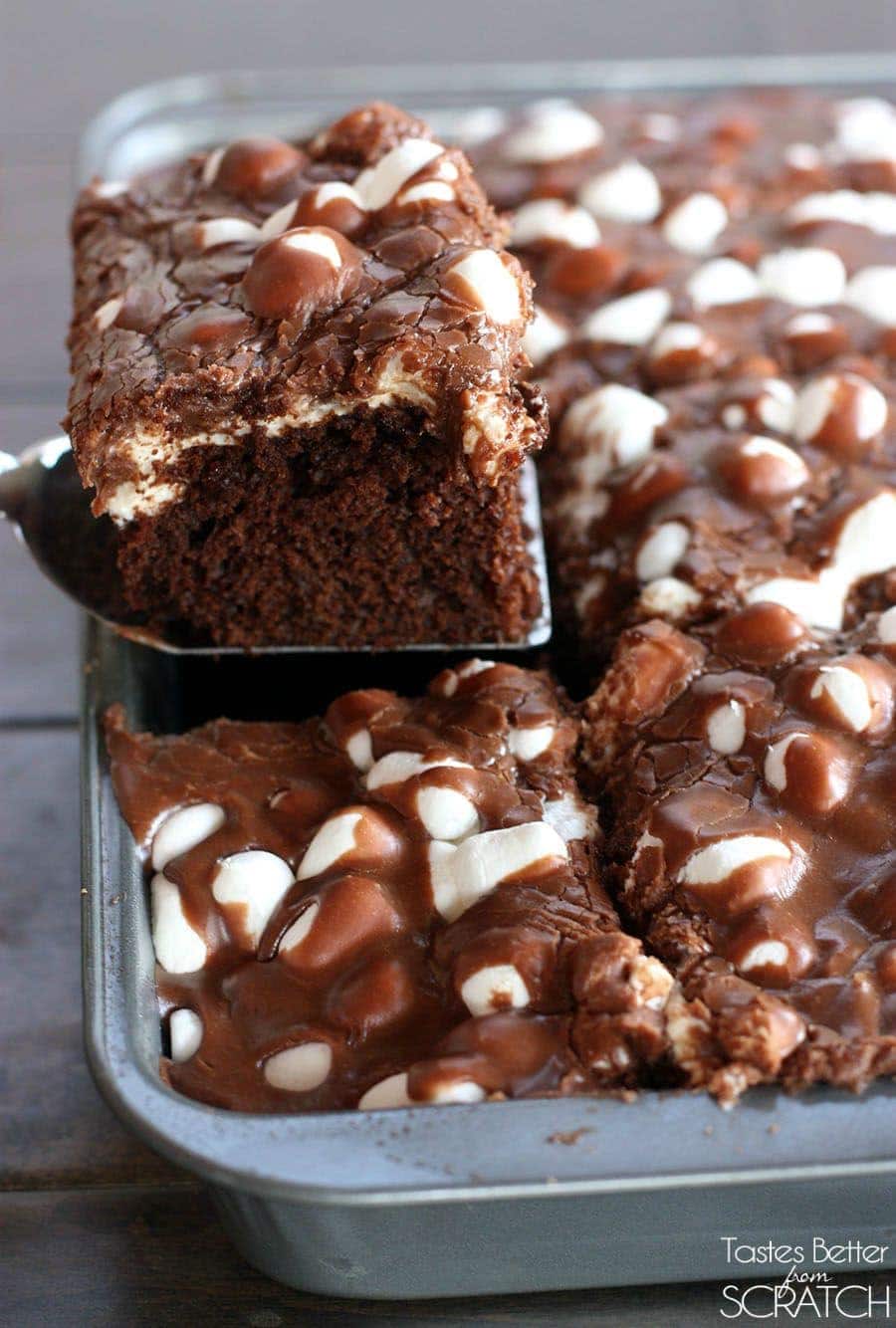 CHOCOLATE + MARSHMALLOW GOODNESS
Hey readers, this is Lauren, visiting again from Tastes Better From Scratch. I'm so excited to share this amazing recipe for Mississippi Mud Cake with you guys—I'm drooling just thinking about it.
This delicious mud cake supposedly originated in Mississippi. Not surprisingly the name came from the resemblance between the dense cake to the dark-colored Mississippi river bank.
What's better than a delicious homemade chocolate cake, with melted marshmallows and warm chocolate frosting on top? Um, nothing, in my opinion!! Serve it with a bowl of ice cream and you're sure to have a lot new friends.
Ingredients
▢any chocolate cake baked in a 9×13″ pan
▢10.5 oz mini marshmallows
Frosting
▢1/3 cup butter
▢1/3 cup milk
▢1/3 cup cocoa powder
▢1 tsp vanilla extract
▢3 cups powdered sugar
Instructions
Bake Chocolate Cake according to instructions. Remove cake from oven and sprinkle marshmallows all over the cake, completely covering it.
Return to oven (at 350 degrees F) for 2-3 minutes or until the marshmallows are just slightly puffed and melted. Allow cake to cool completely before drizzling frosting on top.
Frosting
Melt butter in a small saucepan over medium-high heat. Add milk and cocoa powder and whisk well. Cook for about 2-3 more minutes, stirring constantly, until mixture has thickened slightly. Remove from heat and stir in vanilla and powdered sugar. Use an electric mixer to make the frosting smooth.
Drizzle warm frosting immediately over cake. Refrigerate cake for for about 30 minutes or until frosting has set. Store at room temperature.