Peach Pretzel Salad Dessert is a fresh summer twist on the classic fruit and jello pretzel dessert using fresh or canned peaches.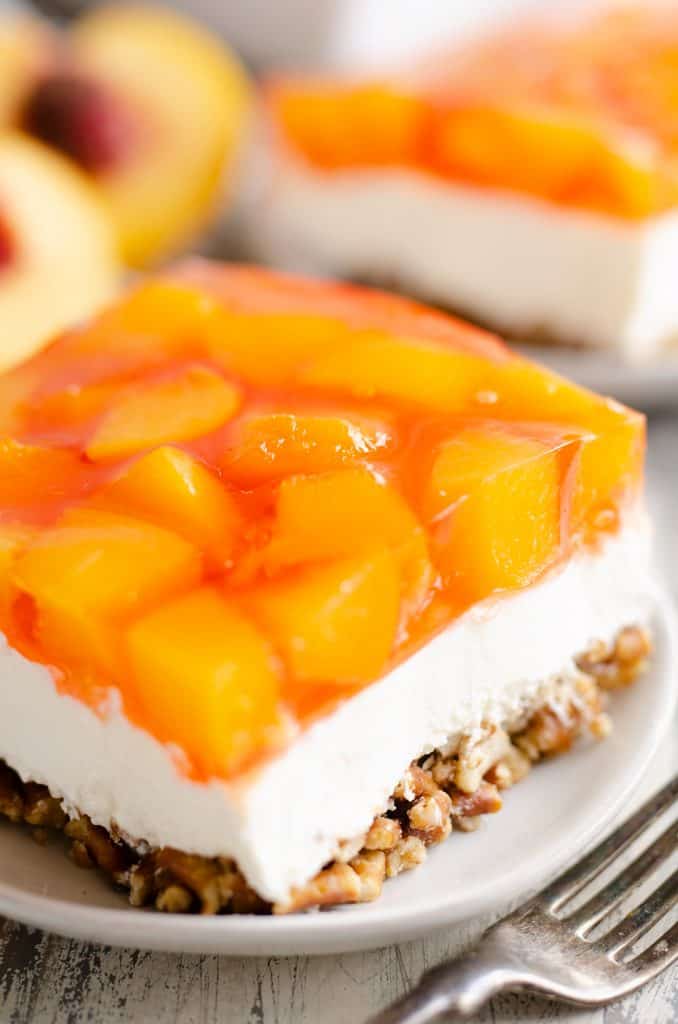 PEACH PRETZEL SALAD DESSERT
This Peach Pretzel Salad Dessert is a fresh combination of tangy sweet peaches in peach gelatin, a velvet layer of whipped topping and cream cheese all over a salty pretzel crust. They're the perfect balance of flavors! Peach pretzel jello salad is the easy-to-make, gorgeous layered peach dessert that will be the hit of any summer party!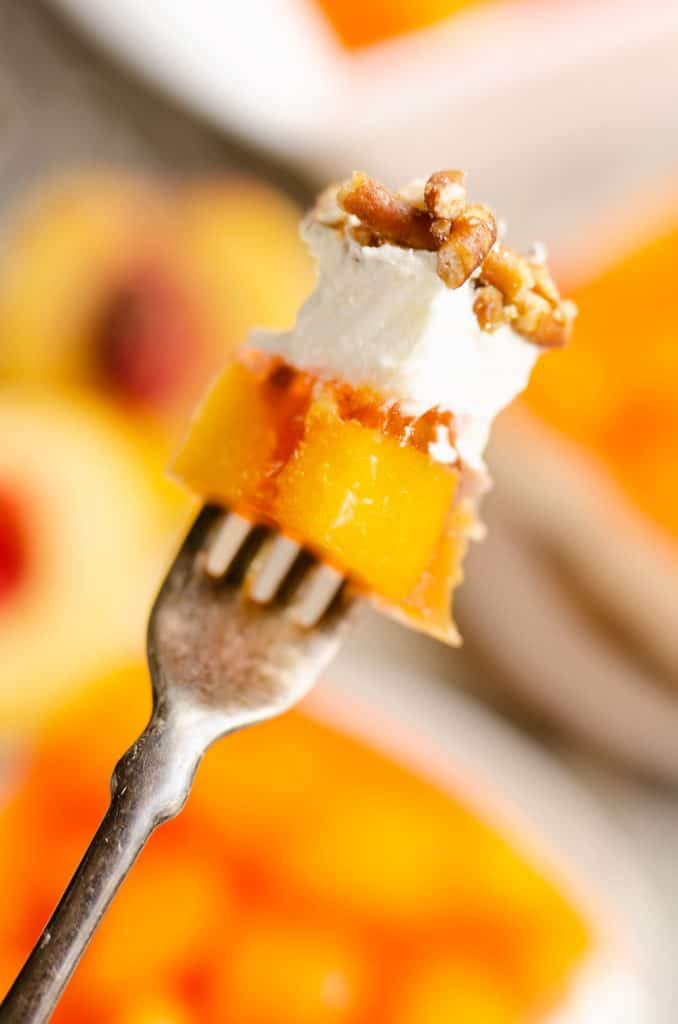 JELLO PRETZEL DESSERT
If you've been following along with me for a while you'll remember the Marshmallow Peach Icebox Dessert recipe that was passed down in my family from my mom to me. We used to make it every August, and I looked forward to it all year. Well, this pretzel dessert recipe is another great family recipe to use up some of those summer peaches!
INGREDIENTS
PEACH GELATIN LAYER
2 1/3 c. boiling water
1 6 oz. box peach gelatin
4 c. sliced peaches, fresh or canned
PRETZEL CRUST
2 1/2 c. crushed pretzels
3 Tbsp. powdered sugar
3/4 c. melted butter
CREAM CHEESE LAYER
1 8 oz. package cream cheese
1 c. powdered sugar
1 8 oz. carton whipped topping
1 pasteurized egg , OPTIONAL
INSTRUCTIONS
Preheat oven to 350°.
Combine the gelatin with boiling water in a medium bowl. Whisk until gelatin is dissolved. Roughly chop the peaches and add them to the gelatin mixture. Allow to cool just until it is soft set.
Add the pretzels to a resealable bag and using a rolling pin, crush the pretzels until they are small pieces. Add them to a medium bowl along with the powdered sugar and butter. Mix until the pretzels are coated.
Press the pretzel mixture into the bottom of a 9×13 pan. Bake for 10 minutes at 350°. Cool.
Meanwhile beat together the cream cheese, sugar, and egg (optional) until smooth. Gently fold in the whipped topping. Carefully spread over the pretzel crust.
Pour the soft set gelatin and peach mixture over the cream cheese layer. Refrigerate the dessert until the gelatin is fully set. Serve chilled.