This pineapple dream dessert is one of my family's favorites. You know those desserts that seem to be at all the family gatherings? Those recipes that your grandma has been making for years? Like Pineapple Upside Down Cake, Ambrosia and Watergate Salad. This is one of those desserts.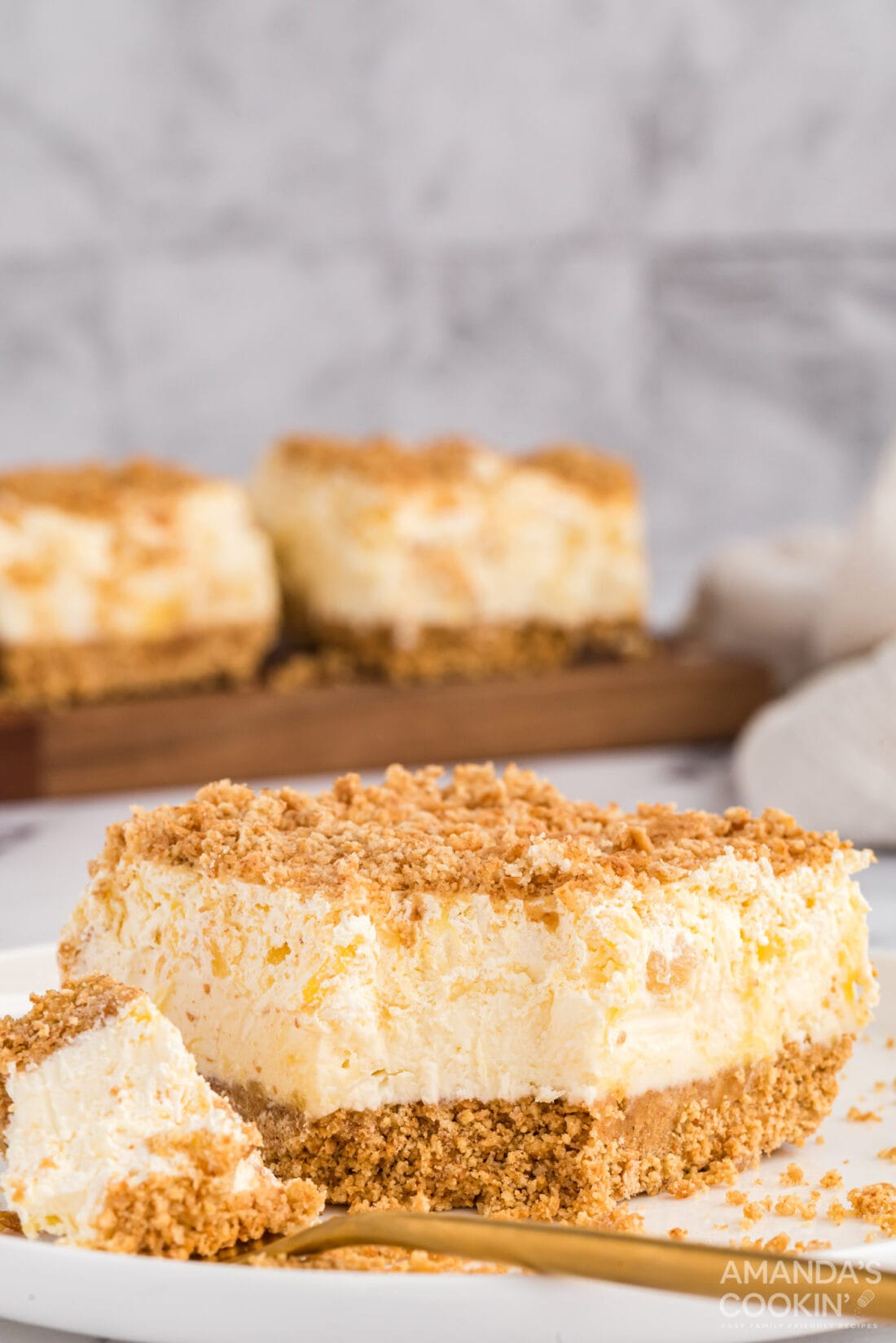 This light and fluffy pineapple cream cheese dessert can be easily transported, hence it appearing at all those family functions, and rarely has leftovers.
Pineapple Dream Dessert
Pineapple dream is one of those perfect potluck desserts. Cream cheese, pineapple, whipped cream and graham crackers, yum!
Ingredients
Crust:
2 1/2 cups graham crumbs 2 sleeves
1/2 cup unsalted butter
Layers:
2 cups powdered sugar sifted
1/2 cup unsalted butter softened
4 oz cream cheese softened
8 oz Cool Whip fat-free
20 oz crushed pineapple drained well
Instructions
Preheat oven to 300 F.
Melt butter in the microwave and allow to cool. Combine the crumbs and butter and toss together until incorporated. Press 2 cups of the crumb mixture firmly into an 9×9 square pan and bake for 8-10 minutes. Place on wire rack to cool.
Beat the cream cheese and butter together until creamy. Turn the mixer down to low and add the powdered sugar one cup at a time until incorporated. Turn up and beat well for a minute or so. Add a heaping tablespoon of the drained pineapple and stir in with a rubber spatula. Spread the cream cheese and pineapple mixture over the crust.
Fold the remaining pineapple into the Cool Whip and spread on top of the cream cheese mixture. Sprinkle the remaining graham cracker crumb mixture on top. Refrigerate for at least 4 hours, preferably overnight.
Expert Tips & FAQs
NO BAKE VERSION: If it's too hot to turn on the oven, you can make the crust without baking it. Simply follow the instructions in the recipe, then instead of baking the crust, place it in the refrigerator. Let the crust chill for about 20 minutes. The butter will solidify and hold the crust together.
Nutrition
Serving: 1slice | Calories: 376cal | Carbohydrates: 45g | Protein: 2g | Fat: 21g | Saturated Fat: 12g | Cholesterol: 54mg | Sodium: 162mg | Potassium: 123mg | Fiber: 1g | Sugar: 33g | Vitamin A: 655IU | Vitamin C: 4.5mg | Calcium: 56mg | Iron: 0.9mg