Roll into the strawberry season with this gorgeous strawberry cake roll: a delicate almond sponge cake decorated with a cute strawberry design and filled with strawberry whipped cream.
The Japanese are really on to something with these patterned cake rolls. They are as impressive to behold as they are delicious to eat, and are arguably much easier and less time-intensive than fancy frosted layer cakes.
alk about dressed to impress!
If you're the type that wants to create beautifully decorated cakes that'll wow your guests but don't want to deal with a laborious layer cake, you should definitely give a Japanese-style patterned cake roll a try.
This stunning style of the cake allows you to create intricate designs that are baked right into the cake itself, no fancy frosting necessary.
The technique does require some basic piping skills (the more you practice the better you'll get), but honestly, even if you just piped a bunch of polka dots all over the thing, the result would be absolutely lovely.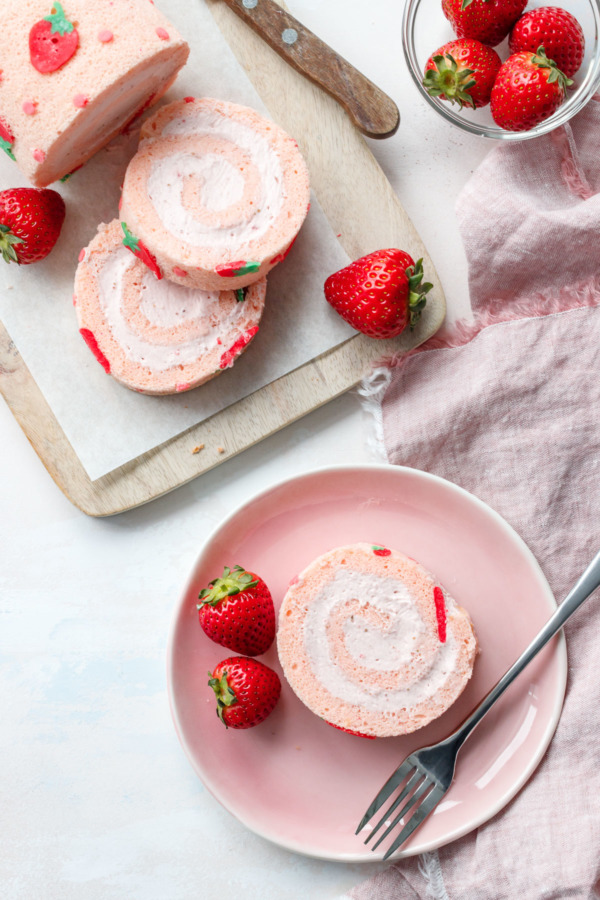 Unlike my pumpkin roll cake which divides the main sponge batter into three separate colors, this method uses a separate paste-like batter that can create a more detailed design.
The paste is piped onto a sheet of parchment, freezing briefly to set, then an airy sponge cake batter is poured over the top. After baking, peel back the parchment paper and prepare to be wowed!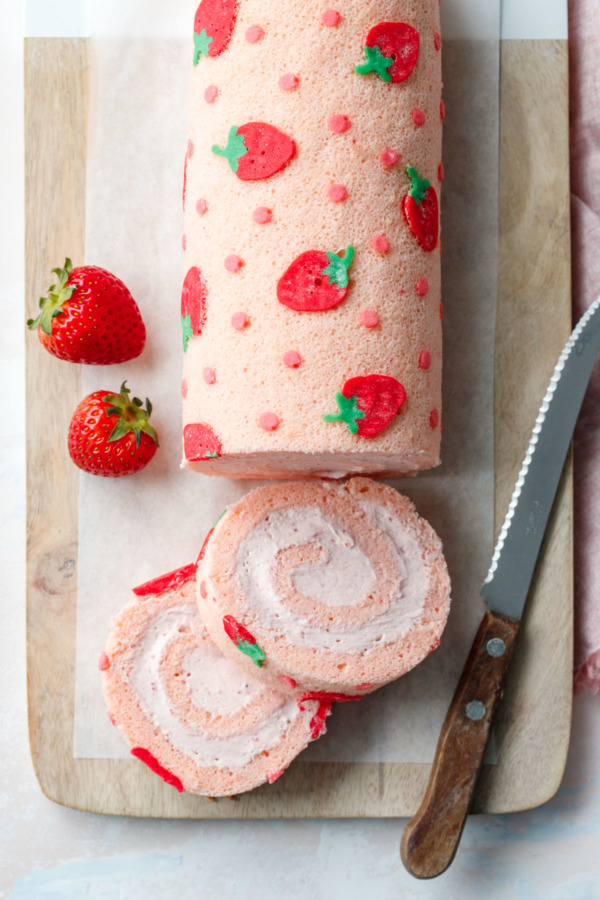 I originally went for a more abstract strawberry design, with a pink background, green squiggles, and yellow seeds. It came out quite cute but looked more like an Easter egg than a strawberry. And unfortunately, I failed big time when it came to the filling on that first roll, attempting a strawberry marshmallow filling that, while it tasted amazing, oozed out of the ends of the roll like sweet, sticky magma.
Take 2.
Since I had to remake the cake anyway to fix the filling, I also reworked the design, opting for dots instead of squiggles (easer to pipe), and simplified red berries so there would be no mistaking the flavor of this cake roll.
The cake batter paste gives the pattern an almost embossed feeling, the paste cooking up slightly firmer than the surrounding sponge. It's a cool effect, although it is a bit tricky to cut since the paste bakes up firmer than the sponge cake itself (tip: use a serrated knife to very gently saw through the bigger shapes). Or, plan a design that allows you to cut in between the piped shapes.
The little bubbles that appeared in the berries were a complete accident, but don't they look like little seeds?
Ingredients
for 10 servings
6 eggs
1 ½ cups sugar(300 g), divided
2 tablespoons oil
2 teaspoons baking powder
½ teaspoon salt
2 teaspoons vanilla
1 ½ cups flour(185 g)
¼ cup powdered sugar(40 g)
8 oz cream cheese(225 g), softened
1 tablespoon vanilla
2 cups strawberry(300 g), sliced
Preparation
Preheat oven to 350°F (180°C).
In a bowl, whisk the eggs until pale yellow, about 2 minutes.
Add in the ¹¹⁄₄ cups (150 grams) sugar and whisk again until combined.
Mix in oil, baking powder, salt, and vanilla.
Add in flour, and fold until smooth and combined.
Pour the batter on a parchment paper-lined baking sheet and spread evenly. Gently tap the baking sheet on the counter to release any air bubbles.
Bake for 10-15 minutes, or until cooked through.
Lay out a kitchen towel and sprinkle with powdered sugar.
Once the cake is done, invert it onto the towel and lift the towel to roll the cake into a log. The towel will wrap into the cake.
Refrigerate cake for 30 minutes.
In a bowl, mix the cream cheese, remaining sugar, and vanilla. Set aside.
Place the cake on the counter and unroll.
Spread the cream cheese mixture in an even layer over the cake and top with sliced strawberries.
Tightly roll the cake bake up, this time just using the towel as a guide.
Top with powdered sugar.
Slice and serve.
Enjoy!