You'll love this wonderfully moist, perfectly spiced Carrot Cake Recipe. This cake is surprisingly simple to make and includes a step-by-step video for no-fail results every time. Top everything off with a simple cream cheese frosting for what truly might be the perfect cake.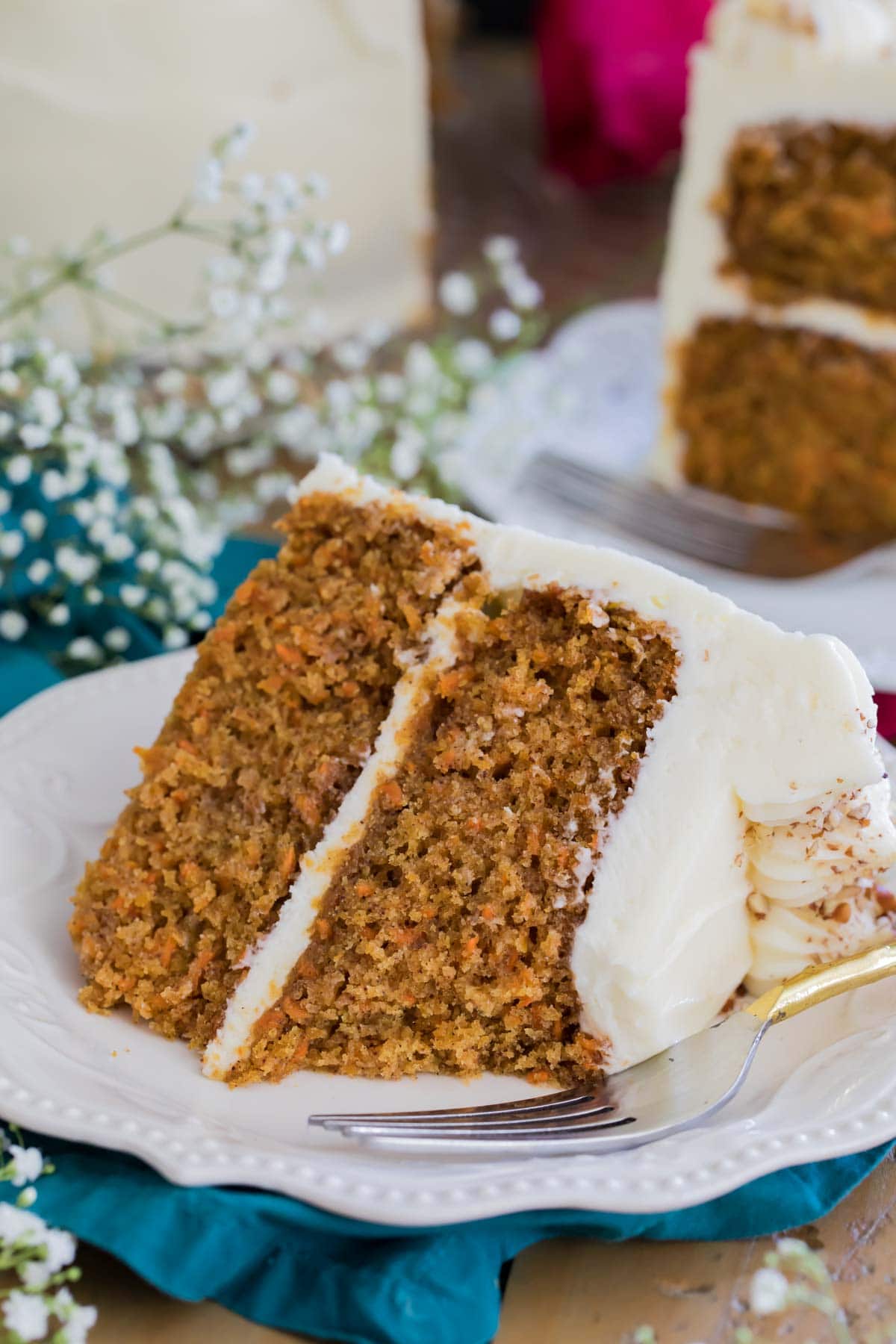 If I had to choose a favorite cake recipe on my blog, I think this carrot cake recipe would be it. Maybe I'm biased, but even though I'm wildly in love with my white cake, vanilla cake (a reader favorite!) and chocolate cake, this carrot cake is hands-down the one I will reach for first every time.
There's something about its deliriously moist crumb, the perfect amount of spices, and yes, that all-time favorite cream cheese frosting of mine. It's sweet without being too sweet, carefully crafted with both butter and oil and just the right amount of carrots –the flavor is so good that even Zach reached for a second piece.
I know you are going to love this one just as much as we do, so let's dig in!
The Best Carrot Cake Recipe
A wonderfully moist, perfectly spiced carrot cake recipe.  This cake is surprisingly simple to make and includes a step-by-step video for no-fail results every time.
Ingredients
▢2 ½ cups all-purpose flour (315g)
▢1 cup granulated sugar (200g)
▢1 cup light or dark brown sugar¹ firmly packed (200g)
▢1 ½ teaspoon baking soda
▢1 teaspoon baking powder
▢1 teaspoon salt
▢2 teaspoons ground cinnamon
▢½ teaspoon ground nutmeg
▢1 cup canola or vegetable oil (235ml)
▢½ cup unsalted butter melted (113g)
▢4 large eggs room temperature
▢1 Tablespoon vanilla extract
▢3 cups grated carrots² peel before grating (340g)
▢1 cup chopped walnuts or pecans optional (125g)
Cream Cheese Frosting³
▢½ cup (1 stick) unsalted butter softened (113g)
▢8 oz cream cheese softened (brick-style, not spreadable) (226g)
▢1 teaspoon vanilla extract
▢¼ teaspoon salt
▢4 cups powdered sugar (500g)
Recommended Equipment
▢2 8″ round cake pans (see notes for using different sized pans)
▢Mixing bowls
Cook Mode
Prevent your screen from going dark
Instructions
Preheat oven to 350F (175C) and prepare two 8-inch pans⁴ (see note for using different sized pans) by lining the bottoms with parchment paper and lightly greasing and flouring the sides.
In a large bowl, whisk together your flour, sugars, baking powder, baking soda, salt, cinnamon, and nutmeg.
Add your canola oil and melted butter and stir well (batter will be pretty stiff and thick at this point, I usually use an electric mixer or my stand mixer to combine everything nicely).
Add eggs, one at a time, stirring well after each addition.
Stir in vanilla extract.
Stir in carrots and nuts (if using) until ingredients are well-combined.
Evenly divide carrot cake batter into prepared baking pans and bake on 350F (175C) for 40 minutes (toothpick inserted in center should come out mostly clean with only few moist crumbs).
Allow cakes to cool in the pans for 10 minutes, then run a knife around the edge and invert onto cooling rack to cool completely.
Allow cake to cool completely before covering with cream cheese frosting.
Cream Cheese Frosting
Combine butter and cream cheese in a large bowl and use an electric mixer to beat until creamy, well-combined, and lump-free.
Add vanilla extract and sprinkle salt into the bowl and stir well to combine.
With mixer on low, gradually add powdered sugar until ingredients are completely combined (be sure to scrape the sides and bottom of the bowl with a spatula).
Once your cake has cooled completely, cover with frosting.
Notes
1Brown sugar
Either light or dark brown sugar will work fine, dark brown sugar will make your cake slightly more moist and rich, but light brown sugar works perfectly if you don't have dark on hand.
²Carrots (& how to grate them)
For me, this usually requires about 4 large carrots. I always peel my carrots before grating. Make sure to use the small shred of your box grater. Another way I like to prepare my carrots is to use the "shred" setting on my food processor and then switch to the blade and briefly pulse the carrots so that you have fine pieces of carrot (don't over-do it though, or you'll have carrot juice!). Whatever you do, don't use store-bought "matchstick" carrots, they're not nearly thin enough!
³Frosting
A single batch of my cream cheese frosting recipe will cover this cake, but because I like a lot of frosting and will usually pipe decoration on the top of the cake, I sometimes increase the recipe by 50% or even double it.
⁴Cake pans, different sizes
The following bake times have been reported by readers who have tried making this cake in different sized pans. Keep in mind bake time will generally be longer when using a glass pan, and very dark pans may require less time. The best way to test that your cake is finished baking is to use the toothpick test: a toothpick inserted in the center of the cake should come out with a few moist crumbs (not wet batter) or clean.
Two 9″ pans: bake for approximately 30-33 minutes.
9×13″ pan: bake for approximately 45-50 minutes
Bundt pan: bake for approximately 55 minutes.
Four 6″ pans: bake for approximately 40 minutes
Cupcakes: See my carrot cake cupcake recipe.
Storing
If you're eating this cake the same day you make it or within 48 hours of making it, and you are able to store it somewhere cool and dry, you do not have to refrigerate it–though you do want to store it in an airtight container. Any longer than that I would recommend storing in an airtight container in the fridge where it will keep for about 5 days.
Nutrition
Serving: 1slice (calories calculated with frosting but without optional nuts) | Calories: 533kcal | Carbohydrates: 86g | Protein: 7g | Fat: 19g | Saturated Fat: 8g | Polyunsaturated Fat: 5g | Monounsaturated Fat: 4g | Trans Fat: 1g | Cholesterol: 88mg | Sodium: 448mg | Potassium: 195mg | Fiber: 2g | Sugar: 65g | Vitamin A: 4283IU | Vitamin C: 1mg | Calcium: 84mg | Iron: 2mg