Braised Beef Stew with Potatoes and Carrots – Hearty. Simple. Flavorful. Basic cooking doesn't have to equate to boring or tasteless. This classic Braised Beef Stew with Potatoes and Carrots testifies strongly to that theory. Downright delicious. That's how I describe this stew recipe.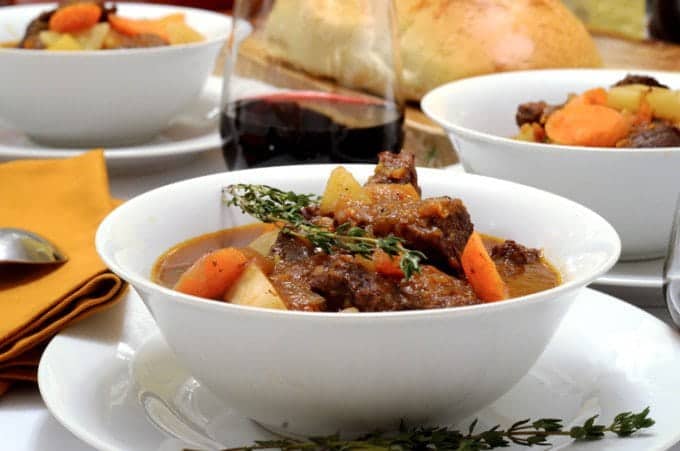 Ingredients
for the braised beef
▢3 pounds boneless beef chuck not lean, cut into 2-inch pieces
▢3 tablespoons olive oil
▢3 carrots quartered
▢3 celery ribs quartered
▢2 medium onions peeled and quartered
▢1 head garlic peeled
▢3 tablespoons tomato paste
▢⅓ cup balsamic vinegar
▢1 750-ml bottle dry red wine (about 3 ¾ cups)
▢2 Turkish bay leaves or 1 California
▢2 thyme sprigs
▢3 cups reduced-sodium beef broth
▢3 cups water
for potatoes and carrots to be added toward the end
▢2 ½ pounds small white boiling potatoes
▢1 ½ pounds carrots
Instructions
for braising the beef
Preheat oven to 350°F with rack in middle.
Pat beef dry and season with 2 ½ teaspoons salt and 1 teaspoon pepper.
Heat oil in pot over medium-high heat until it shimmers, then brown meat, without crowding, in 3 batches, turning, about 8 minutes per batch. Transfer to a platter.
Reduce heat to medium, then add carrots, celery, onions, and garlic and cook, stirring occasionally, until well browned, about 12 minutes.
Push vegetables to one side of pot. Add tomato paste to cleared area and cook paste, stirring, 2 minutes, then stir into vegetables.
Add vinegar and cook, stirring, 2 minutes.
Stir in wine, bay leaves, and thyme and boil until wine is reduced by about two thirds, 10 to 12 minutes.
Add broth to pot along with water, beef, and any juices from platter and bring to a simmer. Cover and braise in oven until meat is very tender, about 2 ½ hours.
Remove from oven, use slotted spoon to take out mirepoix of carrots, celery, onion and garlic. Place mirepox in food processor to purée then return contents to stew.
cook potatoes and carrots
While beef braises, peel potatoes and cut into ½-inch-wide wedges. Slice carrots diagonally (1-inch).
Add potatoes and carrots to stew after adding puréd mirepox (make sure they are submerged) and simmer, uncovered, stirring occasionally, until potatoes and carrots are tender, about 40 minutes.