The Best Chocolate Cake Recipe – A one bowl chocolate cake recipe that is quick, easy, and delicious! Updated with gluten-free, dairy-free, and egg-free options!
The best chocolate cake recipe. Ever? There are plenty of claims for the best chocolate cake recipe. I get that. But with one bite of this decadent, moist chocolate cake with chocolate frosting, every single person around the table commented that this was the best chocolate cake they'd ever tasted.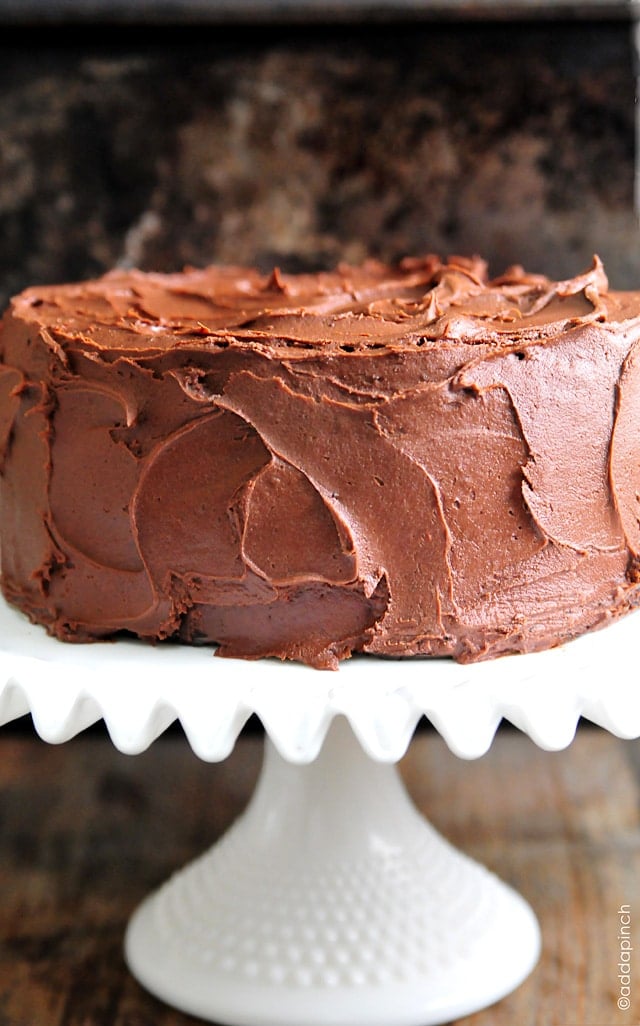 So as for my house, this chocolate cake recipe now holds that honor.
As the compliments continued, I didn't begin to tell them how easy it was to make.
In all honesty, it is probably one of the easiest cakes I've made in a long time, really, but I just smiled and thanked them.
As we continued on gobbling up the cake, drinking our coffee or iced cold milk, the compliments just kept coming.
Then the requests for the recipe started.
That's generally when you know that folks really like what you've made if they ask for the recipe and tell you for what event they plan to serve it.
As a cook, that really is one of the highest compliments you can receive – well, at least in my book.
The Best Chocolate Cake Recipe Ever
It was great to hear that they thought the cake was just as good after their last bite as they thought it was with their first.
Here's another great thing about this recipe. The cake batter really can be made in a bowl without the use of a heavy duty mixer. Of course, that just makes things easier, but this is easily a recipe my Grandmother would have enjoyed making in her tiny kitchen with a whisk and a bowl. And I'm sure it would have turned out perfectly, too.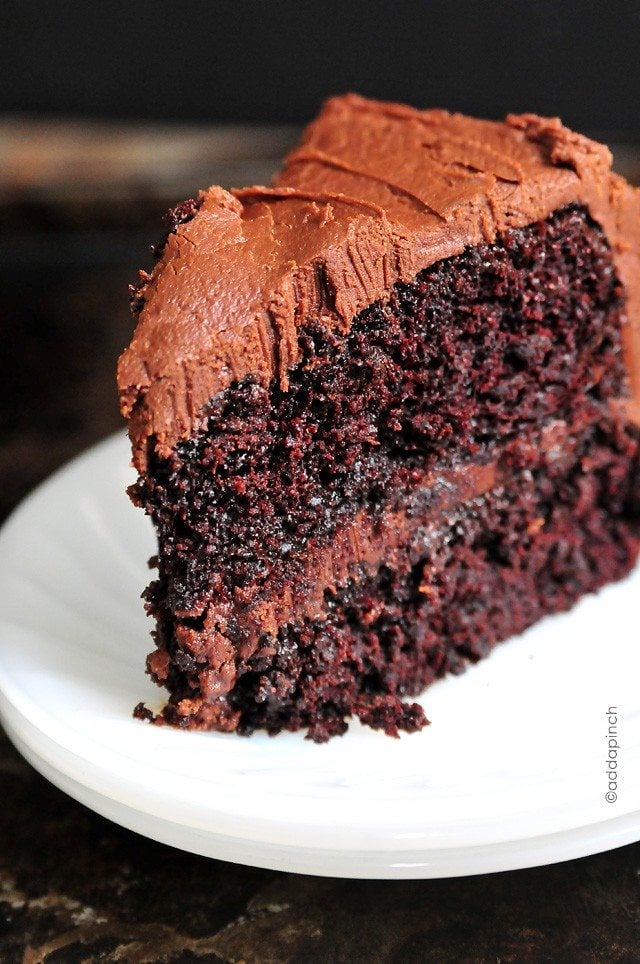 I'm not going to kid you, this makes a very rich, moist chocolate cake recipe. So if you are a faint of heart chocolate cake person, this is not the cake for you.
Based on the Old Fashioned Hershey's recipe, I sort of went a bit heavy-handed with some changes testing cake after cake until I got it just the way I wanted it, but the end result was oh so worth it. The crumbs left on the plate gave that away.
Ingredients
▢2 cups all-purpose flour
▢2 cups sugar
▢3/4 cup unsweetened cocoa powder
▢2 teaspoons baking powder
▢1 1/2 teaspoons baking soda
▢1 teaspoon salt
▢1 teaspoon espresso powder homemade or store-bought
▢1 cup milk or buttermilk, almond, or coconut milk
▢1/2 cup vegetable oil or canola oil, or melted coconut oil
▢2 large eggs
▢2 teaspoons vanilla extract
▢1 cup boiling water
▢Chocolate Buttercream Frosting Recipe
Instructions
Preheat oven to 350º F. Prepare two 9-inch cake pans by spraying with baking spray or buttering and lightly flouring.
FOR THE CHOCOLATE CAKE:
Add flour, sugar, cocoa, baking powder, baking soda, salt and espresso powder to a large bowl or the bowl of a stand mixer. Whisk through to combine or, using your paddle attachment, stir through flour mixture until combined well.
Add milk, vegetable oil, eggs, and vanilla to flour mixture and mix together on medium speed until well combined. Reduce speed and carefully add boiling water to the cake batter until well combined.
Distribute cake batter evenly between the two prepared cake pans. Bake for 30-35 minutes, until a toothpick or cake tester inserted in the center of the chocolate cake comes out clean.
Remove from the oven and allow to cool for about 10 minutes, remove from the pan and cool completely.
Frost cake with Chocolate Buttercream Frosting.
Notes
The cake batter will be very thin after adding the boiling water. This is correct and results in the most delicious and moist chocolate cake I've ever tasted! xoFreezer FriendlyLet the baked cake layers cool completely. Wrap them well with plastic wrap and then with foil. Put each layer into a freezer bag and freeze up to 2 months. To serve, thaw in the refrigerator overnight with wrapping intact. The next day, the layers are ready to fill and frost.High Altitude: If you live at a high altitude, adjust the recipe based upon the altitude for your area. Nutritional information is for the cake only.
Nutritional Information
Calories: 124kcal | Carbohydrates: 27g | Protein: 3g | Fat: 1g | Saturated Fat: 1g | Cholesterol: 15mg | Sodium: 178mg | Potassium: 114mg | Fiber: 1g | Sugar: 17g | Vitamin A: 229IU | Vitamin C: 1mg | Calcium: 34mg | Iron: 1mg