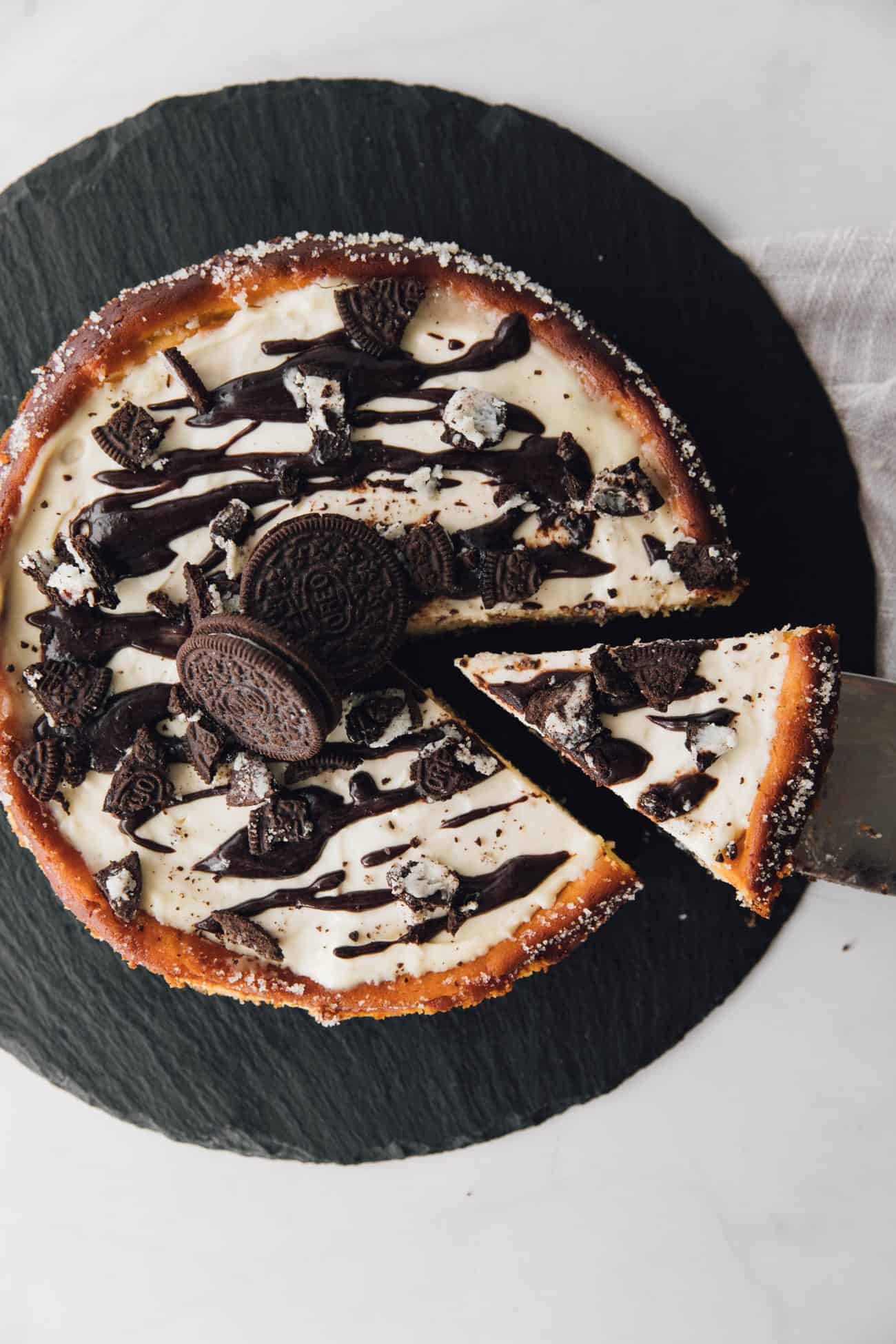 Two of our favorite classics are married together in this delectable recipe. Allow us to present Chocolate Chip Cheesecake! If you have experienced this sweet treat, then you know how perfect it is! Gooey chocolate sandwich cookie crumbs infused into a decadent cheesecake.
Don't grab one of those premade cheesecakes at the store that everyone uses. Show up and show off your mouth-watering homemade dessert that will surely be a crowd-pleaser.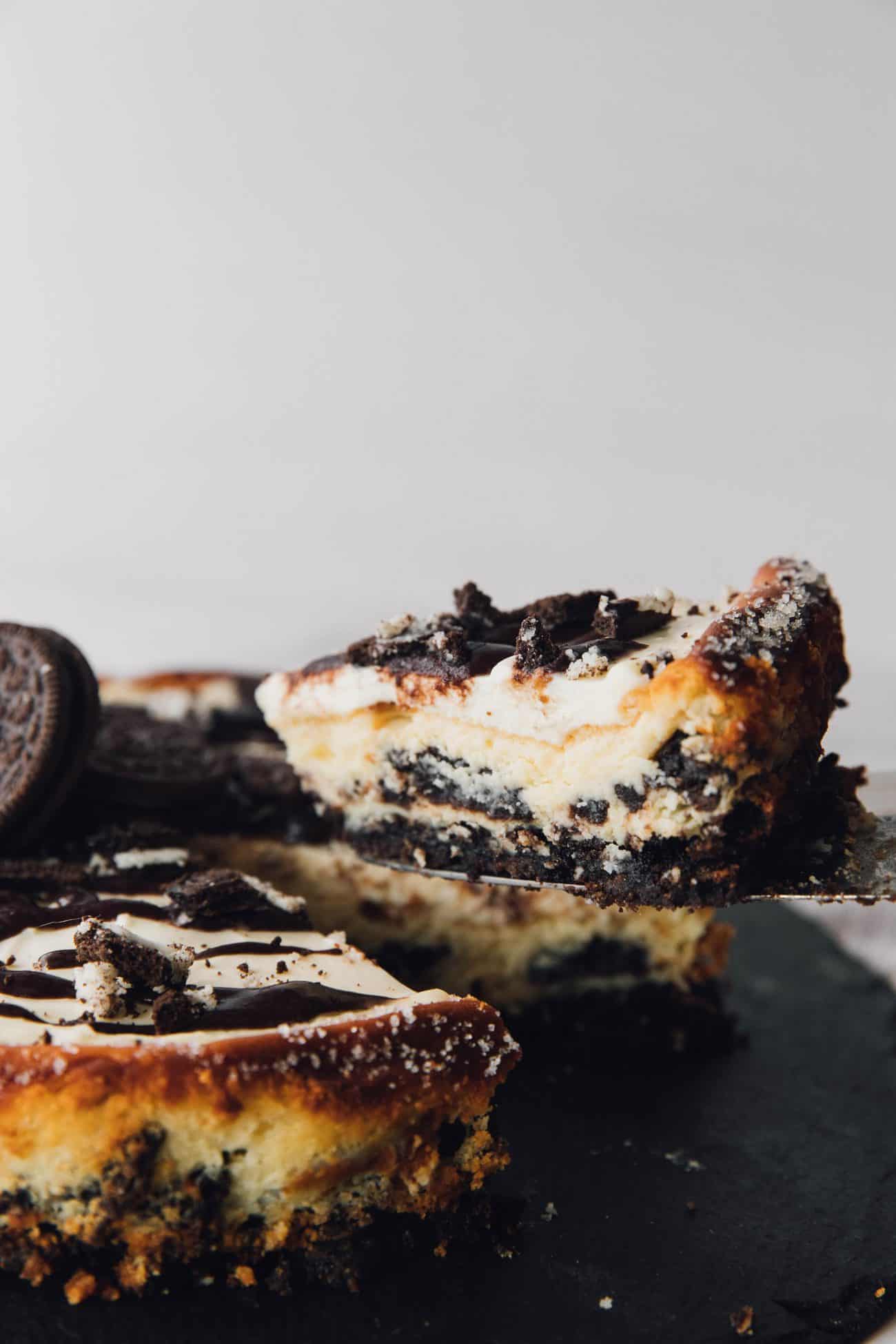 What type of chocolate sandwich cookie crumbles did you use?
Our all-time favorite would be the classic Oreo's. A cookie enjoyed by millions all over the world. Rich chocolate cookies are holding a sweet, creamy filling together.
Oreo's are a little more firm compared to other cookies, and they crumble into tiny pieces, so you avoid large chunks in a certain bite of your cheesecake. We have experimented with other cookies, and they all worked very well. Try chocolate chip cookies that are either soft or hard similar to the texture of an Oreo.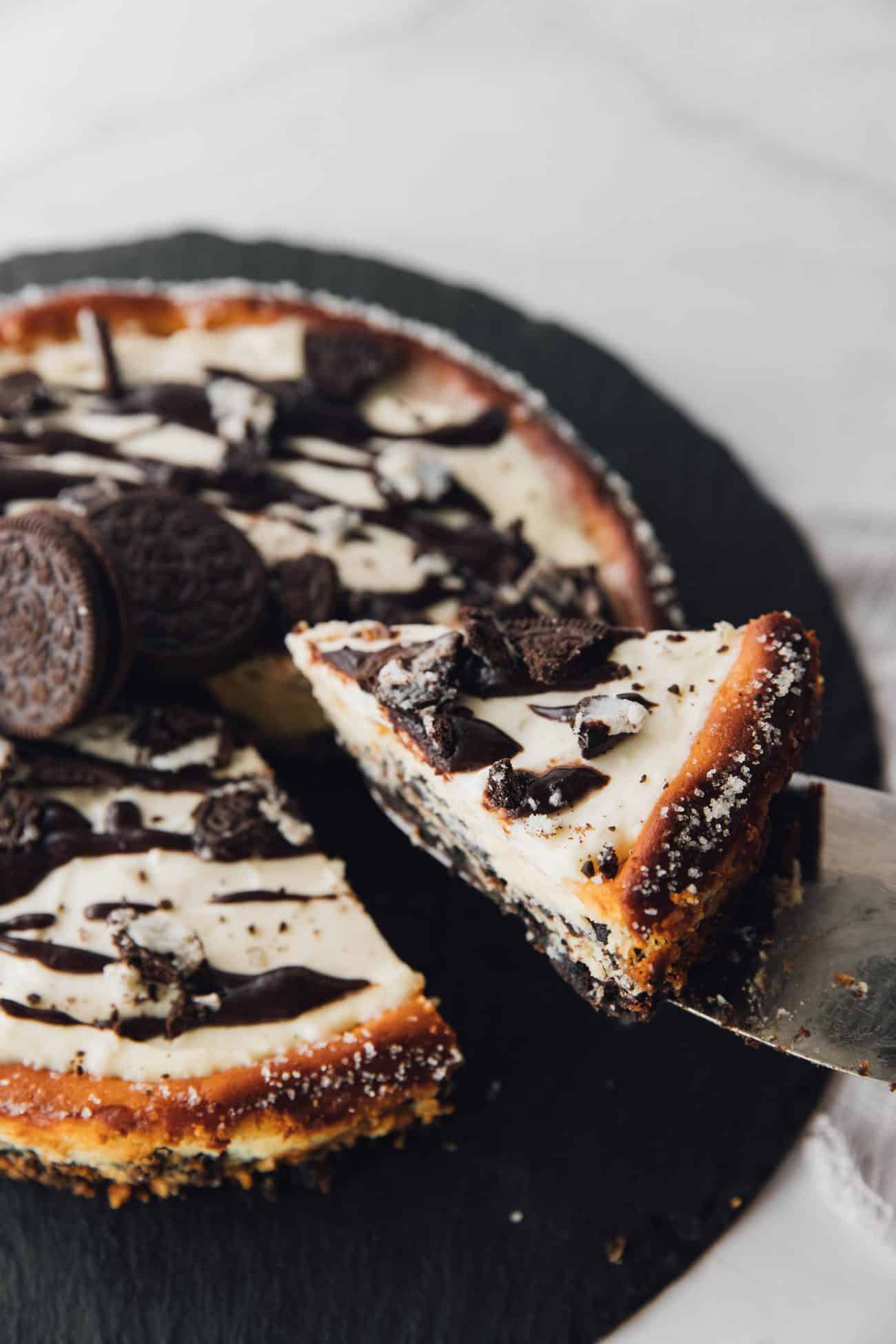 Cheesecake is certainly a labor of love but so rewarding want you are able to dive in and try a slice for yourself. What type of cookie crumble are you using, and what occasion are you baking this for? Let us know in the comment section below. We would love to hear all your wonderful ideas.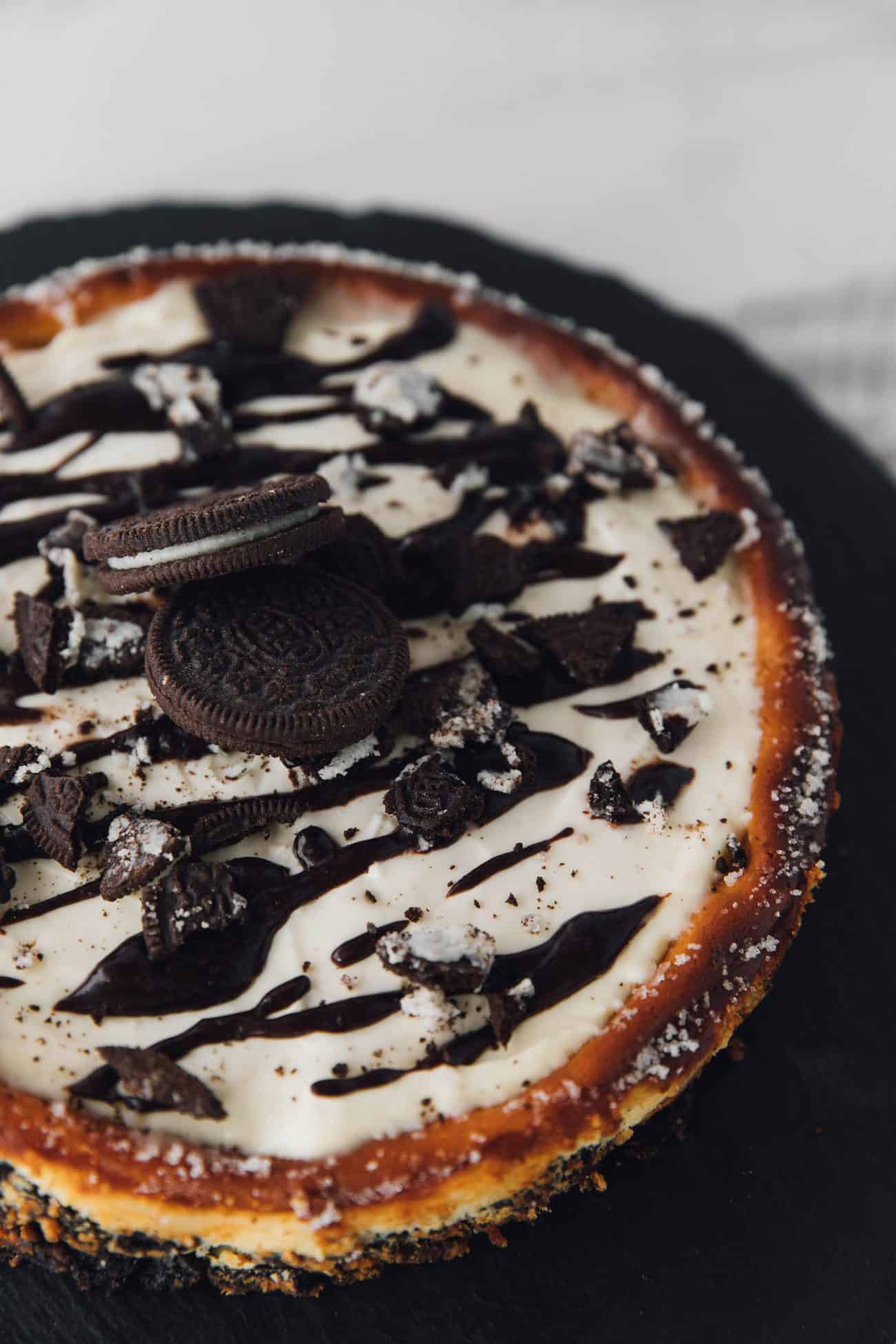 Cook Time: 1 hour 30 minutes
Total Time: 1 hour 30 minutes
Ingredients
2 cups of chocolate sandwich cookie crumbs
2 tablespoon melted butter
¼ cup packed brown sugar
1 teaspoon ground cinnamon
2 lbs cream cheese, softened to room temperature
1 ¼ cup white sugar
⅓ cup heavy whipping cream
2 tablespoons all-purpose flour
1 teaspoon vanilla extract
Cheesecake mixture:
4 eggs
1 ½ cups of chocolate sandwich cookie crumbs
16 oz sour cream
¼ cup white sugar
1 teaspoon vanilla extract
1 cup heavy whipping cream
1 ½ cup of semisweet chocolate chips
1 teaspoon vanilla extract
Instructions
Preheat oven to 350 degrees F
In a medium mixing bowl, add melted butter, 2 cups of cookie crumbs, brown sugar, ground cinnamon. Stir until combined.
Transfer the mixture into a 10-inch springform pan and press it hard. Make sure it is spread evenly across the pan
Place pan in the oven and bake for about 5 minutes.
Remove and allow to cool
Grab a large mixing bowl, and add in cream cheese
Beat until the texture becomes smooth and creamy
Add in your whipping cream, sugar, vanilla extract, and all-purpose flour (gradually)
Beat ingredients after every addition
Now, add in your eggs gradually ( beat to incorporate after adding each egg)
Spread ⅓ of the batter into the pan, spread 1 ½ cups of the cookie pieces.
Spread the remaining batter over the cookie crumbles
Place your pan into the oven and bake for 45 minutes
Keep at 350 degrees F
Remove the cake from the oven and allow it to cool for a few minutes
In another mixing bowl, add 1 teaspoon of vanilla extract and ¼ cup of white sugar
Stir until well blended
Spread your mixture on top of the cake
Put cheesecake mixture back into the oven for another 7 minutes
Turn your oven off and let the cake rest inside for another 30 minutes
Remove from the oven and place on a wire rack to cool
In a medium saucepan, add chocolate chips and 1 cup of whipping cream
Turn heat to low and often stir to avoid burning. Cook until melted
Add in 1 teaspoon of vanilla extract and stir together
Remove mixture from the heat and spread the mixture on top of your cheesecake
Place inside the fridge to firm up for 8 hours
Decorate the cheesecake to your liking, serve, and ENJOY!