With its super soft texture, semi-sweet flavor, this fluffy condensed milk bread will be your all time favorite recipe. You don't need to be a bread baker to make this amazing bread.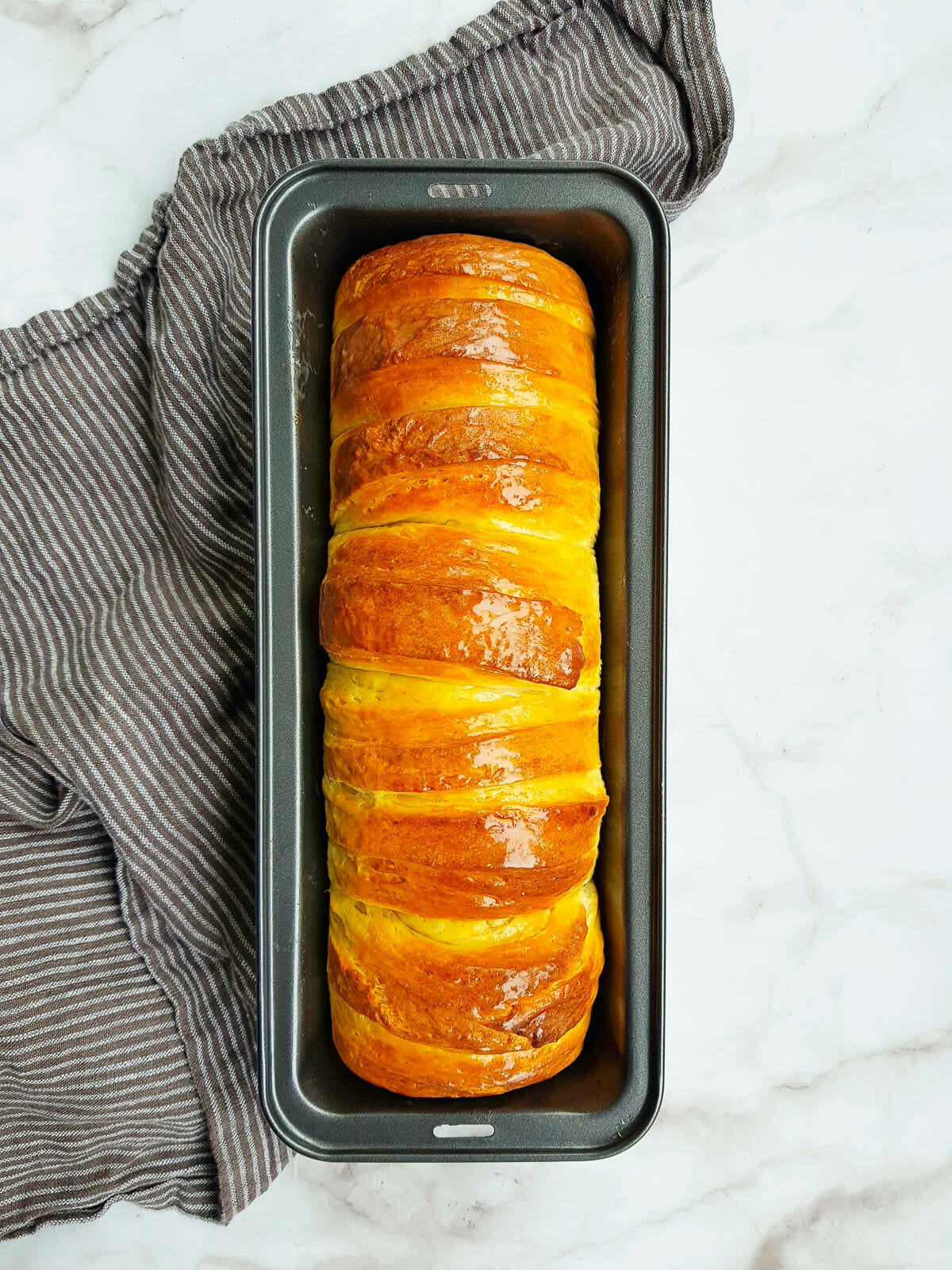 This is my favorite milk bread recipe; it's also one of the most popular recipes on the blog. The recipe received a lot of love and a high rating due to its perfection. It is safe to say this is the best fluffy condensed milk bread recipe, and if you haven't tried it yet, now is the time.
Fluffy condensed milk bread
Super soft and fluffy condensed milk bread/milk dinner rolls recipe. With these amazing tips and tricks, you'll bake like a pro in no time.
Ingredients 
Bread dough
3.5 c cake flour see notes for AP flour substitution
1 tbsp instant yeast
½ tsp salt
1 c whole milk room temperature
½ c sweetened condensed milk
1 medium egg
2 oz unsalted butter softened, at room temperature, cut into pieces
Egg wash
1 medium egg
1 tbsp whole milk
Condensed milk glaze
3 tbsp sweetened condensed milk
1 tbsp unsalted butter softened, at room temperature
Instructions
Mixing & kneading by mixer
Combine all dry ingredients (flour, yeast, salt) in a mixing bowl of a stand mixer fitted with a dough hook.
On slow speed, add wet ingredients (milk, condensed milk, egg) to dry ingredients and mix until cohesive dough starts to form—approximately 30 seconds to 1 minute. Use a rubber spatula to scrape any flour that sticks on the bowl's sides if necessary.
Increase the speed to medium, then add softened butter one piece at a time. Make sure each piece is fully incorporated before adding the next. Then continue to mix the dough until it is smooth, elastic, and pulls entirely from the sides of the bowl.
Extra kneading by hands
Transfer the dough to a lightly floured surface (about 1tbsp is enough). Start kneading the dough by hand to form a rough ball by gently picking the edge of the dough that's farthest away from you toward the middle. Then gently press the dough down and away from you with the heel of your hand.
Turn the dough 90 degrees and repeat the picking and pressing process to fold the dough. Repeat these steps a few times until the dough forms a smooth, round ball. Approximately 1 to 2 minutes. You can lightly sprinkle the dough with flour as needed along the way if the dough becomes a little bit sticky.
First proof
Put the smooth, round ball of dough (seam side down) in a lightly greased large mixing bowl. Cover tightly and let the dough double in size, approximately 1.5 to 2 hours. This proofing time is a standard for most bread/dinner rolls recipes.
Shaping
Punch the dough to deflate, then transfer it to a lightly floured surface.
Firmly press the dough into a square or rectangle with your hands and with the help of a rolling pin. Make sure the dough's length fits within the size of your chosen baking pan.
Start by picking the edge that is closed to you and carefully rolling the dough away from you to a cylinder. Remember to tuck the sides as you go. Then pinch the seam close tightly at the end.
Use a serrated knife or your sharpest knife to cut the cylinder into pieces with equal thickness.
Second proof
Arrange the dough neatly, and seam side dough in a lightly greased baking pan. Cover loosely with plastic wrap and let the dough rise almost double in size again, approximately 1 to 1.5 hours.
Baking
Pre heat oven to 350F.
Lightly brush the top of the already-proofed dough with an egg wash mixture.
Bake for 35 to 40 minutes. Remember to turn the baking pan halfway through the process.
When the bread is done, lightly brush it with condensed milk glaze when the bread is just freshly out of the oven.
Finally, let the bread cool down to room temperature completely before serving.
Notes
If you need to use AP flour instead of cake flour, use 2 tablespoons less AP flour per cup of cake flour, and add 2 tablespoons of corn starch per cup.
This milk bread or any other enriched bread/dinner rolls can be wrapped in plastic wrap and store in a cool, dry place at room temperature for up to 3 days.
See above for freezing tips.
Left-over, unused milk bread is a perfect fit for this bread pudding. Use this amazing raisin bread pudding if you want to transform it once again into a wonderful dessert.