Delicious Homemade PayDay Candy Bars Are Both Salty And Sweet, Taste Just Like The Real Thing, & Are SO Easy To Make!
If you love candy bars as much as I do you will LOVE these homemade payday candy bars. They are chewy and delish. For more homemade candy, try Homemade Reese's, and Caramel Candy.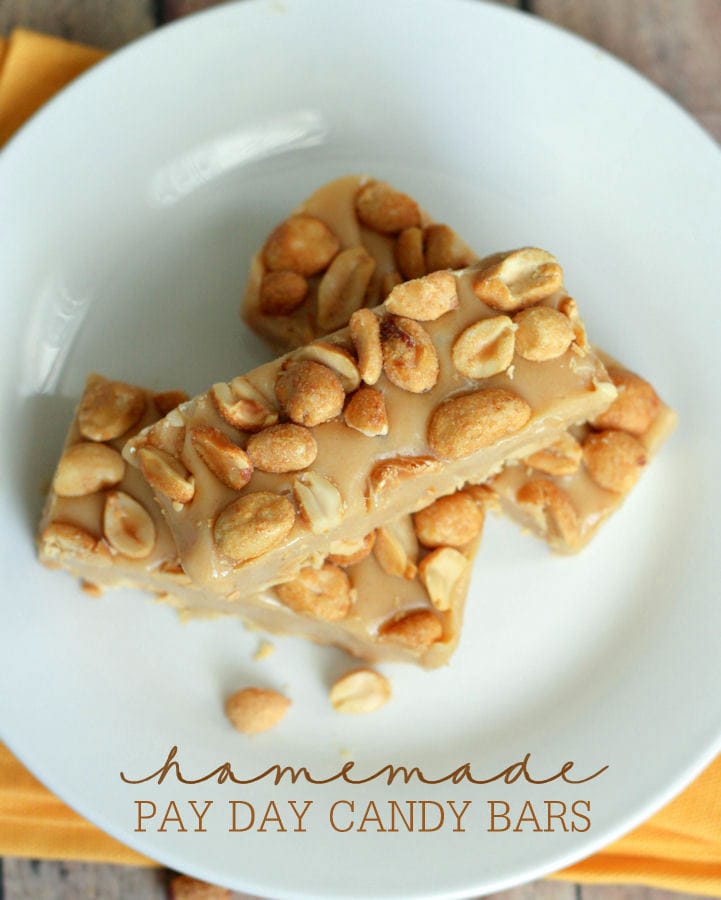 HOMEMADE IS BETTER!
Contrary to popular opinion, PayDays are actually one of my favorite candy bars! I know it's not a super common one compared to Snickers or Kit Kat, but I just love the combination of salty and sweet!
Although it's quick and convenient to pick up a candy bar at the grocery checkout line, sometimes homemade versions of candy bars are just BETTER! There is something to making it from scratch without any of the "extra" ingredients in manufactured products.
Good news, this homemade version is honestly so simple, it's totally worth the little bit of effort for that homemade taste!
Homemade PayDay® Bars
Ingredients
3 cups cocktail peanuts, divided
2 1/2 tablespoons unsalted butter
2 cups peanut butter chips
1 (14 ounce) sweetened condensed milk
2 cups miniature marshmallows
Instructions
Pour 1½ cups peanuts into the bottom of a 7×11-inch baking dish lined with foil and sprayed with non stick cooking spray.
In a medium saucepan melt the butter and and peanut butter chips.
Stir until smooth. Remove from heat; stir in the condensed milk and marshmallows. Let the mixture sit for a minute or two to heat up the marshmallows. Stir until smooth and combined.
Pour peanut butter mixture over peanuts.  Even out the candy with an off set spatula.  Sprinkle the remaining 1½ cups of peanuts over the top of the candy; lightly press peanuts into candy.  Cover and refrigerate until firm.  Preferably overnight.  Cut into sticks.