Nutella, nutella, nutella. If you've never tried Nutella before, run to the grocery store now and buy some. Now!

Are you back yet? Isn't it the most delicious thing you've ever tasted out of a jar? For those of you who have never tried it and didn't follow my orders to go to the like grocery store, Nutella is a chocolate-hazelnut spread. It's creamy and sweet and like nothing you've ever tasted before. In the world of food, some foods are a match made in heaven, like peanut butter and jelly or tomatoes and basil. Chocolate and hazelnut is definitely in my top 5 heavenly food matches.
I saw Nutella at the store after not having it for a few months and I just had to buy it. When I got home I was disheartened. I had nothing to dip or eat the Nutella with! I just had to make something, but what? On the television that day I had been reminded of my trip to Paris, France a few years ago. If you haven't been to a pâtisserie, go. Right now.

Are you back yet? Okay, good. Did you sample all the delicious bread, cakes, tarts, pies, and croissants? Did you visit a crepe stand? My trip to France was the first time I ever had Nutella. First, in a crepe. Second, in a pastry. Since I know I would turn to make crepes into a disaster, I decided on a type of pastry to satisfy my Nutella craving. I peered in the fridge and saw a tube of Pillsbury Buttery Crescent Roll Dough. It was the closest thing I could find to a Nutella-filled French pastry.
My nutella croissants were amazing! So delicious and so easy. The outside of the croissant was golden brown and the inside was oozing with Nutella. The perfect combination of warm, gooey, flaky, buttery, and sweet.
Nutella Croissants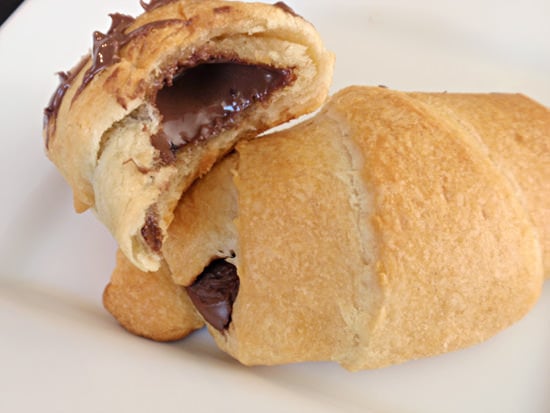 They're warm, gooey, flaky, buttery, sweet, and heavenly: Nutella Croissants.
Ingredients
8 tablespoons Nutella
One package of Pillsbury Butter Flake Crescent Rolls
Directions
Preheat the oven to 375. Open the package and carefully spread the dough out onto a flat surface. Cut apart dough following the pre-cut lines into 8 triangles.
Place one tablespoon (more or less, depending on your preference) of Nutella onto the base of each triangle. Carefully roll the dough up to form a crescent shape.
Place rolls onto an ungreased baking sheet and bakes for 11-13 minutes or until golden brown.