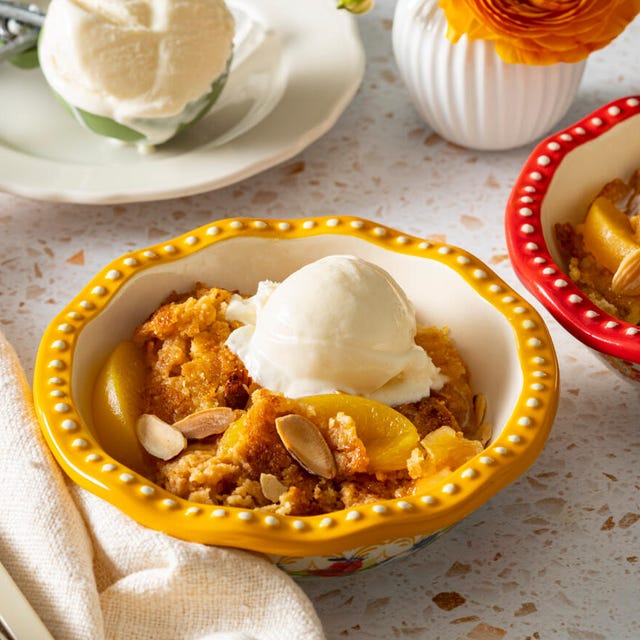 Oh, peach dump cake—it's such a special dessert! It may have been gifted with one of the most unappealing names in all of the peach desserts, but we still love it. What it lacks in flash , it makes up for in flavor and ease! No, peach dump cake did not get its name because it's great to eat if you get dumped (but on second thought, it absolutely is, along with chocolate mousse, peanut butter cheesecake, or chocolate chunk cookies). Peach dump cake got its frumpy name because you literally open up canned and boxed ingredients, dump them into a 9-by-13-inch dish, and bake. It's that easy!
What's the difference between a cobbler and a dump cake?
In general terms, a cobbler usually has a topping that has been mixed together in some way, like a biscuit topping or a batter topping. On the other hand, a dump cake is just that—ingredients are dumped on top of each other in the same dish that the dump cake is baked in. Lazy? Maybe. Genius? Yes!
Do you really just sprinkle dry cake mix over fruit and bake it?
Sounds crazy, right? It works. The peaches and their syrup below and the cubes of butter on top provide just enough moisture to bubble up and soak into the cake mix, yielding a sweet, golden and crispy topping. No one can resist it!
How can I dress up peach dump cake?
If you'd like to make your peach dump cake less of a frump cake, there are several easy things you can do. This recipe calls for adding toasted sliced almonds on top for an extra crunch and golden color. Scoops of vanilla ice cream also look (and taste) amazing with peach dump cake. You can also invite other fruits to the party—sprinkle over a cup of fresh blueberries, blackberries, or raspberries before adding the cake mix for an extra burst of color and flavor.
Ingredients
Nonstick cooking spray2 
15.25 oz. cans sliced peaches in heavy syrup1/2 tsp. 
almond extract 3/4 c. 
salted butter1 
15.25-oz. box yellow cake mix
Toasted sliced almonds and vanilla ice cream, for serving 
Directions
Preheat the oven to 375°. Spray a 9-by-13-inch dish with nonstick cooking spray. Add the peaches and the syrup from the cans, and drizzle with almond extract. Stir gently to combine.
Cut the butter into 1/2-inch cubes. Sprinkle 1/4 cup of the cubes over the peaches. Pour the dry cake mix over the peach mixture, patting into an even layer using your hands or a spoon. Scatter the remaining cubes of butter evenly over the top of the cake mix.
Bake until the top of the cake is golden brown and the peach mixture is bubbly, about 45 minutes.
Sprinkle the cake with the toasted almonds and serve with scoops of vanilla ice cream, if you like.