The most beautiful, delicious layered cake! Salted Caramel Chocolate Cheesecake Cake is exactly what you were looking for. Two rich chocolate cakes with a sweet cheesecake center. Topped with caramel frosting, chocolate ganache, and more salted caramel sauce.
Love salted caramel? Be sure to try this reader favorite Salted Caramel Cookie recipe! Or these thick and fudgy Salted Caramel Brownies.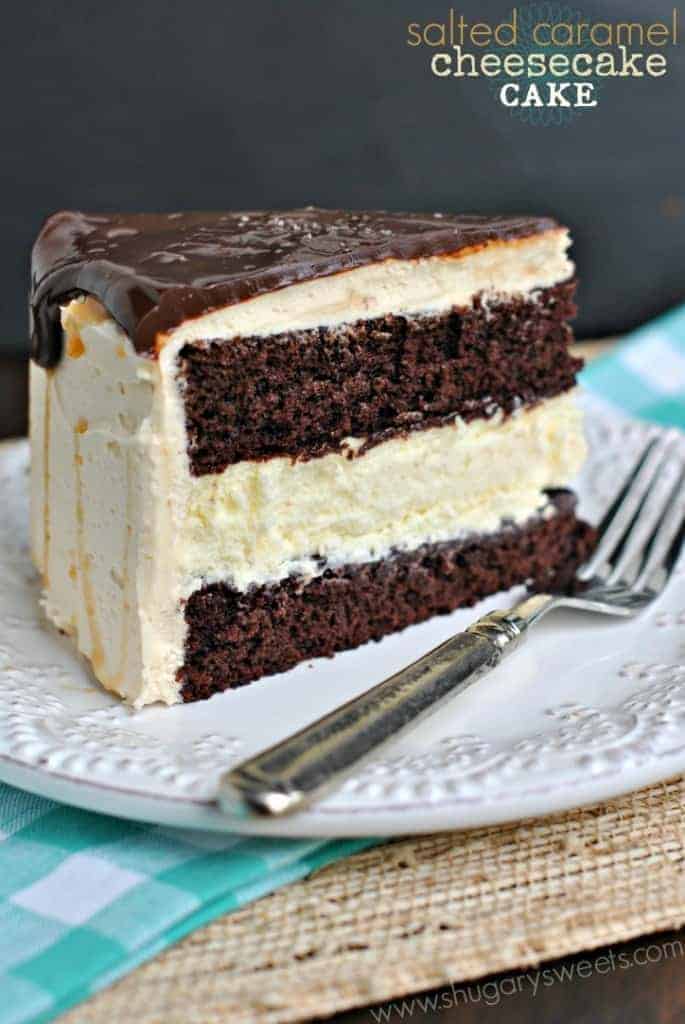 Salted Caramel Chocolate Cheesecake Cake
Salted Caramel Cheesecake Cake: delicious chocolate layered cake with a cheesecake center! Frosted with creamy salted caramel buttercream and chocolate ganache!
Ingredients
For the cheesecake:
2 packages (8 ounce each) cream cheese, softened
⅔ cup granulated sugar
pinch of salt
2 large eggs
⅓ cup sour cream
⅓ cup heavy cream
1 teaspoon vanilla
For the frosting:
1 cup unsalted butter, softened
½ cup caramel sauce (homemade caramel sauce or jarred is fine
4 cup powdered sugar
2 Tablespoons milk
½ tsp kosher salt
For the ganache:
4 ounce dark chocolate
⅓ cup heavy cream
2 Tablespoons caramel sauce
pinch of kosher salt
Instructions
For the cheesecake:
Preheat oven to 325 degrees. Using a large roasting pan on the lower ⅔ of the oven, preheat the pan too!
Prepare springform pan by wrapping bottom of pan (outside) with double layer of foil. Spray pan with nonstick baking spray and line bottom (inside) with a circle of parchment paper. Meanwhile, boil a kettle of water to use later.
Beat cream cheese with granulate sugar for 2-3 minutes until creamy. Add in salt and eggs, one at a time, beating well after each addition.
Beat in sour cream, heavy cream and vanilla. Pour into prepared 9inch springform pan. Place pan in center of preheated roasting pan in the oven. Pour boiling water slowly into the roasting pan, until there is about an inch of water coming up the sides of the springform pan.
Bake cheesecake for 45 minutes. Turn oven off and let cheesecake sit in oven for an additional 30 minutes. Remove and cool completely on counter.
When cooled, transfer entire springform pan into the freezer for several hours or overnight. I put it in freezer for about 2 hours. **If using within 24 hours, feel free to just refrigerate cheesecake!
For the cake layer:
Prepare chocolate cake according to package directions for 9 inch cake. Or, like me, prepare a homemade dark chocolate layer cake using THIS recipe
For the frosting:
Beat butter in a large mixing bowl for 2-3 minutes, until fluffy. Add caramel sauce, powdered sugar, milk and kosher salt.
Beat for 4-5 minutes until soft and creamy.
To assemble:
On a cake platter, lay one layer of chocolate cake, top with the cheesecake. Then add the other layer of chocolate cake. Spread frosting over entire cake, sides and top.
Refrigerate frosted cake while you prepare the chocolate ganache.
For the ganache:
In a microwave safe bowl, combine dark chocolate with heavy cream. Heat 30 seconds. Stir and heat an additional 30 seconds. Whisk for several minutes until smooth. Allow to cool slightly.
Once cooled. Spread over top of chilled cake. Drizzle with remaining 2 Tbsp of caramel sauce and sprinkle with a pinch of kosher salt. Refrigerate cake until ready to serve!
Notes
See blog post for more recipe tips and tricks.