This Old-Fashioned Coconut Custard Pie is one of my family's longtime favorites. The creamy egg custard filling with plentiful toasted coconut is just rich enough to satisfy without being too decadent. Great for a holiday dessert!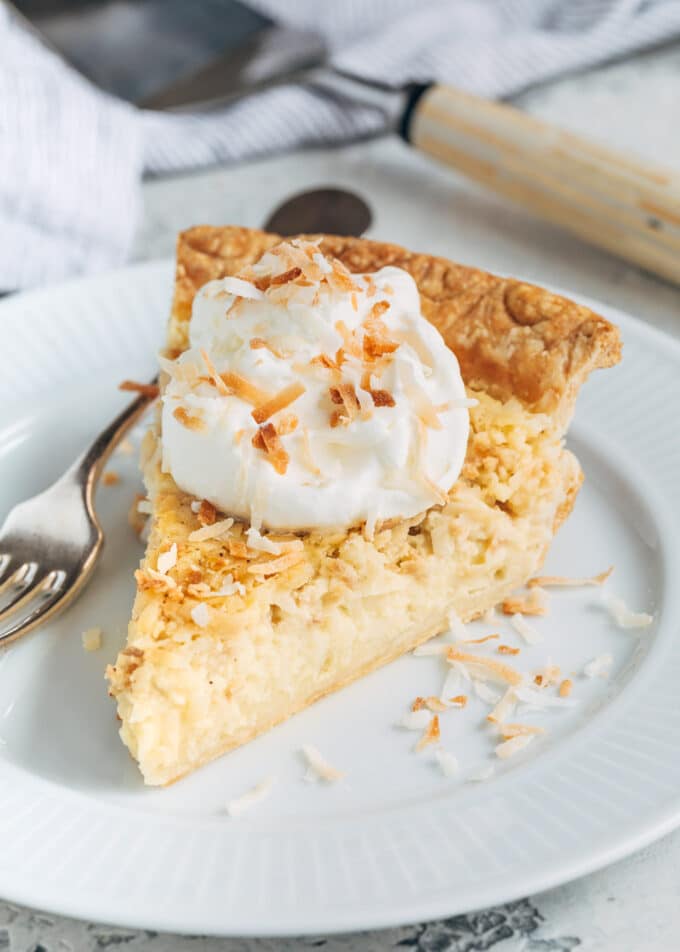 When I was growing up, we always had a large table of Thanksgiving guests and at least 4 different varieties of pie for dessert. Everyone had a favorite, and it wouldn't be Thanksgiving unless everyone got the taste they were looking forward to!
One of those was always Coconut Custard Pie, and in total honesty, we never made it ourselves. We'd order the pie from the local cider mill, where they baked them fresh for pickup the night before Thanksgiving. Truth be told, every pie they made was amazing and the pickup line was out the door every year.
Their coconut pie remains my favorite to this day (and I miss the now-closed cider mill so very much). I've tweaked our recipe in the years since their closing to recreate it, and this is it!
This pie has a flaky, buttery crust and a lightly-sweetened custard filling with plenty of toasted coconut flakes. It's a perfect bite at the end of a big holiday dinner, or any night really. I'd never say no to a slice!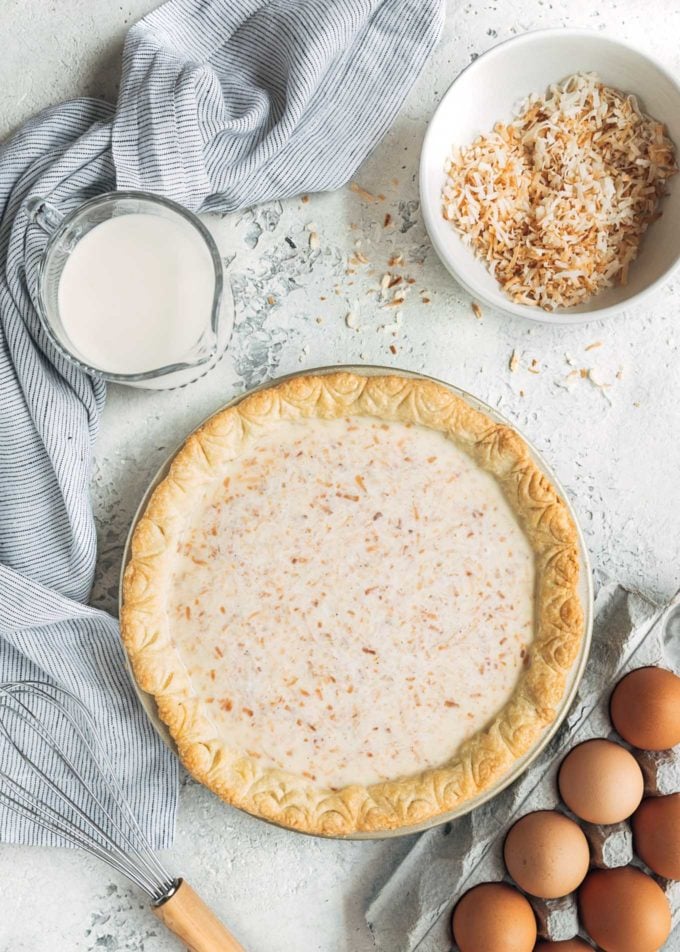 COCONUT CREAM PIE VS. COCONUT CUSTARD PIE
Despite sounding similar, Coconut Custard Pie and Coconut Cream Pie are totally different desserts (and, I love them equally). The biggest difference is that Custard Pie has a baked filling, and Cream Pie does not.
Coconut Custard Pie is made with an egg and milk/cream custard that sets up and thickens in the oven. Coconut Cream Pie is a custard, but it's cooked on the stove and chilled until set. It's then topped with a layer of whipped cream.
The texture of Custard Pie isn't as creamy as Cream Pie, and is typically more compact. For a visual (besides the post photos of course), I could eat the filling for Cream Pie on its own in a bowl, with a spoon, but not Custard Pie filling.