When I was a young kid, I loved being my mother's helper in the kitchen, especially when she made her famous potato salad. I always beat my siblings to the front of the taste tester line on southern-style potato salad days because it was my absolute favorite!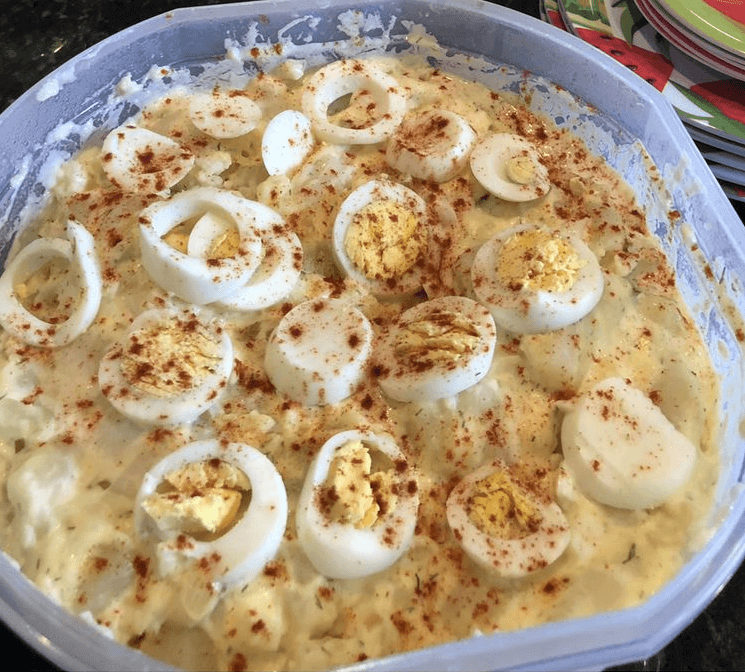 Ingredients
3 pounds of russet potatoes
1 cup of mayo (adjust if you want more or less)
¼ Grey Poupon Dijon Mustard
2 tsp apple cider vinegar
2 tsp of sugar
½ cup sweet pickles
1 stalk of chopped celery
1 medium Vidalia onion, chopped
4 large, hard-boiled eggs, cut into pieces
How To Make Easy Southern Potato Salad
Fill a large pot with water and add potatoes.
Bring the pot to a boil and cook potatoes until tender enough for a knife to go through easily.
Once fully cooked, add the potatoes to an ice bath to shock and cool.
Once the potatoes are fully cooled, peel off the skin and cut them into large chunks
In a separate bowl, mix together the mayonnaise, Dijon mustard, apple cider vinegar, and sugar.
Pour mixture over potatoes and add in sweet pickles, celery, Vidalia onion, and the hard-boiled eggs.
Add salt and pepper to taste.
Mix well and enjoy!