Heaven on Earth Cake with delicious layers of angel cake, sour cream pudding, cherry pie filling, whipped topping, and almonds. Creamy and decadent, this cherry trifle is a sure crowd pleaser!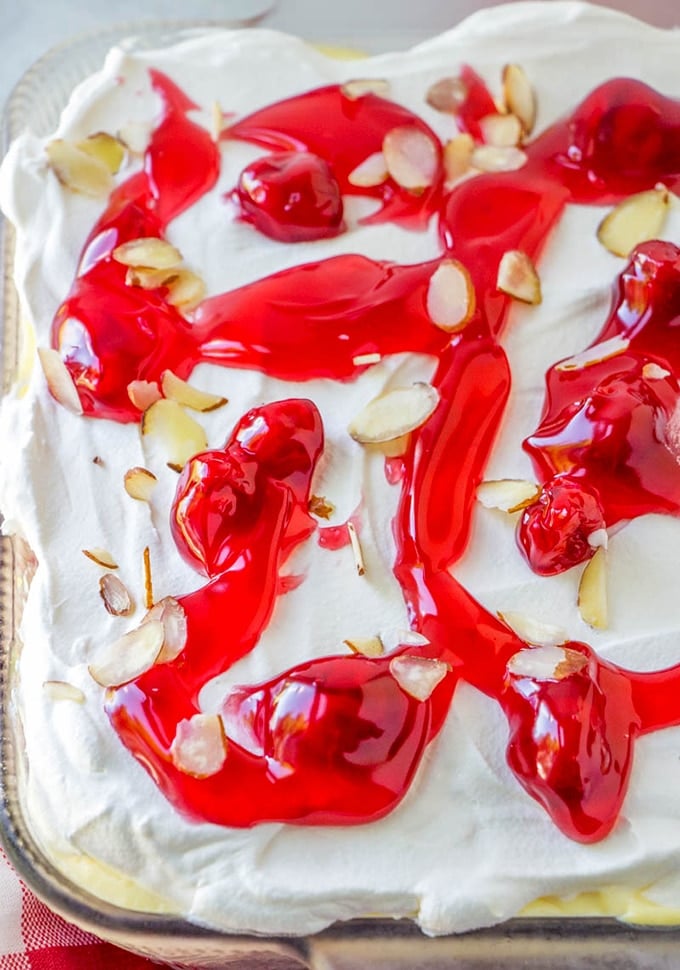 I was out running errands when I received this text from G, "Hey, there's heaven on earth in the fridge". Whaat? WTH is heaven on earth?
Heaven on Earth Cake
Cherry Angel Trifle dessert with scrumptious layers of angel food cake, vanilla pudding, cherry pie filling, and whipped topping. So easy to make and perfect for potlucks and potlucks.
Ingredients
1 box Angel food cake or 1 prepared Angel Food Cake
1 package (3.4 ounces) instant vanilla pudding
1 1/2 cups milk
1 cup sour cream
1 can (21 ounces) cherry pie filling
1 tub (8 ounces) Cool Whip
1 tablespoon almond slivers, toasted
Instructions
Bake angel food cake according to package's directions. Allow to cool and cut into cubes.
In a bowl, combine pudding mix, milk, and sour cream and beat until smooth. Set aside.
In a 9×13 baking dish, arrange 1/2 of cake cubes in a layer.
Spoon 2/3 of cherry pie filling over cake.
Place the remaining 1/2 of the cake on top of the pie filling.
Spoon pudding over cake and spread evenly.
Spoon and spread whipped topping over the pudding layer.
Garnish cake with the remaining pie filling and toasted almonds.
Chill for about 4 to 5 hours. Cut into servings.
Nutrition Information
Serving: 9g, Calories: 331kcal, Carbohydrates: 59g, Protein: 5g, Fat: 8g, Saturated Fat: 4g, Cholesterol: 21mg, Sodium: 329mg, Potassium: 245mg, Sugar: 26g, Vitamin A: 405IU, Vitamin C: 2.6mg, Calcium: 143mg, Iron: 0.3mg