This easy No Bake Lemon Pie is perfect for hot summer days! Loaded with tart lemon flavor, the creamy lemon filling goes perfectly with the graham cracker crust and fresh whipped cream topping. Delicious! Love no bake desserts as much as we do? Try these No Bake S'mores Cheesecake Bars and this No Bake Banana Cream Pudding Cheesecake – outrageously good!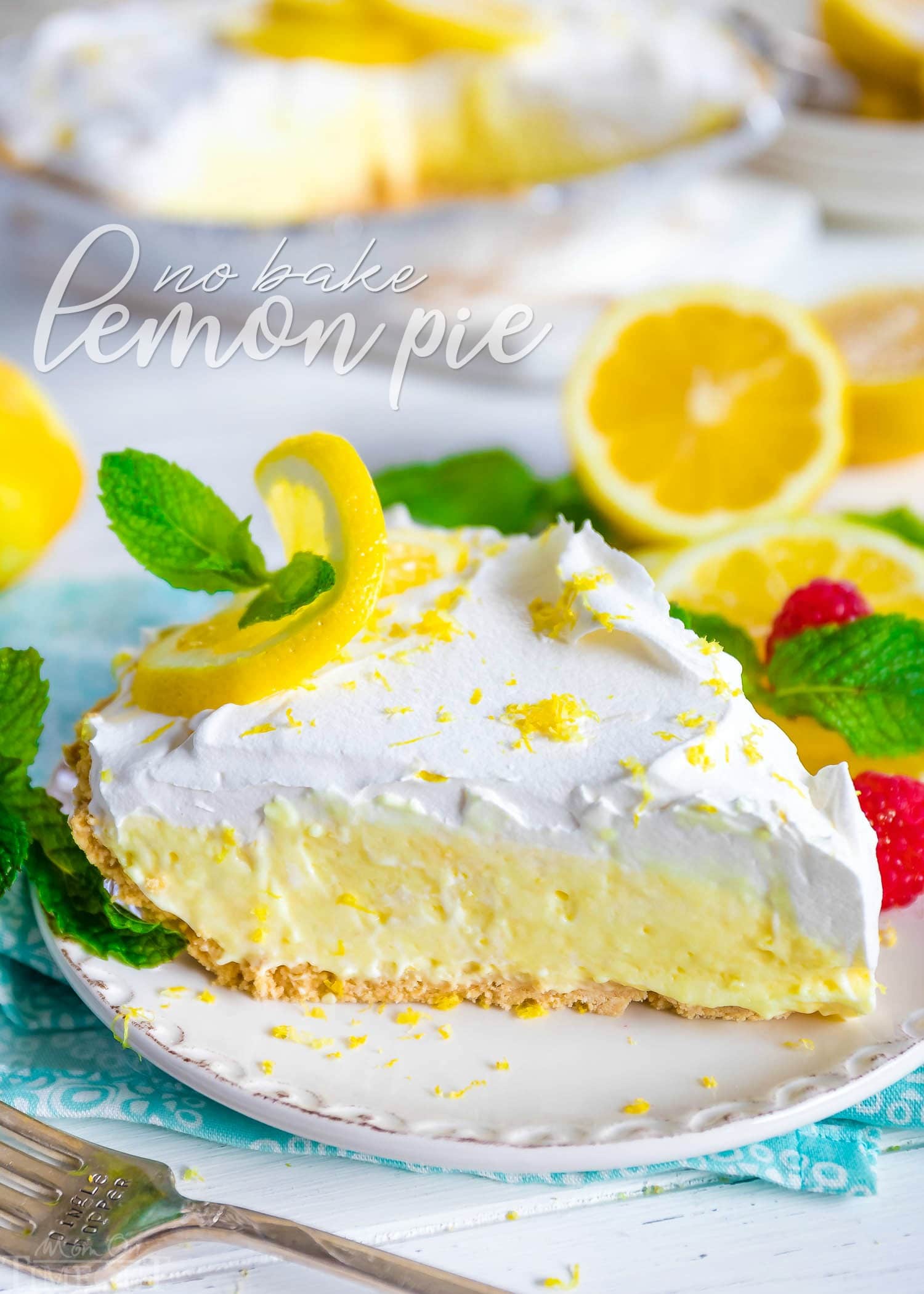 Lemon Pie
Summer is just around the corner and if you live in California – surprise! It's already arrived! Ugh! Spring is the shortest of all our seasons and it comes and goes soooo quickly here.
As you all know, I am a HUGE lover of all things lemon – especially lemon desserts. I think lemon flavored desserts are the way to go all year round, but especially during the spring and summer. It's just so refreshing!
Today I'm sharing a no bake lemon pie that will leave you wanting more…More pie, that is.
Easy Lemon Pie Recipe
How easy is this pie, you ask? You guys. Super, super easy and you can make it semi-homemade if you want. I include instructions in the recipe card for a graham cracker crust and whipped cream topping but you can always buy a pre-made crust at the store (that's what I did for the video!) and top the pie with frozen whipped topping.
With these shortcuts and you're looking at like 5 to 7 minutes, tops. I mean, it just doesn't get any better than that.
This pie is no bake so, really perfect for summer. I'm ALL about no bake desserts during the summer time! It gets hot here in Sacramento.
Ingredients
Graham Cracker Crust
1 1/2 cups graham cracker crumbs
1/3 cup granulated sugar
6 tablespoons unsalted butter melted
Lemon Cheesecake Filling
8 oz cream cheese room temperature
3.5 oz instant lemon pudding mix
1 ½ cups whole milk
1 tablespoon lemon zest
Whipped Cream Topping
1 cup heavy cream cold
2 tablespoons powdered sugar
1 teaspoon vanilla extract
1 tablespoon lemon zest
lemon zest and slices, raspberries and mint to garnish pie
Instructions
Graham Cracker Crust
Lightly spray a 8″ – 9.5″ pie pan with cooking spray. Set aside.
Mix graham cracker crumbs, sugar, and butter in a small bowl. Press the crumb mixture into the prepared pie pan. Use the bottom of a measuring cup to really press the crust down. Chill pie crust for at least 30 minutes before filling.
Lemon Cheesecake Filling
In a medium bowl, beat cream cheese until smooth.
Add pudding mix and beat well until creamy and combined.
Add cold milk, beating in increments until creamy, thick and smooth. (Take short breaks between your mixing, 2 to 3 times, to allow the pudding to thicken.)
Beat in lemon zest. Pour mixture into prepared pie shell.
Chill for at least 3 hours. The pie will set up firmly during this time.
Whipped Cream
In a large cold bowl, whip heavy whipping cream until soft peaks form. Add in sugar and extract and continue whipping until stiff peaks form.
Spread whipped cream on top of chilled pie.
Top with additional lemon zest.
Garnish with lemons, mint, and raspberries before serving, if desired
Notes
I found that in order to ensure that the pudding set up properly, I beat it increments. I added the milk all at once, beat it, and let it sit for 1-2 minutes to let it thicken up, before I beat it again. I did this 2-3 times. This is an optional step, but it helps ensure the pudding sets properly.
When beating your filling, it is better to over mix it than under mix it so that the pudding dissolves completely.
If your cream cheese isn't softened enough, you might end up with a lumpy filling, which still tastes delicious, but doesn't look good.
A store bought graham cracker crust can be used instead (as I did in the video) if you prefer.
The graham cracker crust can be baked if you prefer. Preheat oven to 375F. Bake for 7 minutes.
Instead of using freshly whipped cream, you can also use frozen whipped topping – just thaw first!
*Recipe updated 3/12/21.
Nutrition
Calories: 374kcal | Carbohydrates: 31g | Protein: 4g | Fat: 26g | Saturated Fat: 15g | Cholesterol: 81mg | Sodium: 237mg | Potassium: 136mg | Fiber: 1g | Sugar: 14g | Vitamin A: 945IU | Vitamin C: 1.7mg | Calcium: 105mg | Iron: 0.6mg