The classic Salisbury Steak is smothered in a mushroom and onion sauce and is ready in just 30 minutes!
One of those comforting favourites that never goes out of style. It's quick to prepare, inexpensive and very popular with children and adults alike! This homemade version is much better than the one you usually find in the frozen section of your grocery store.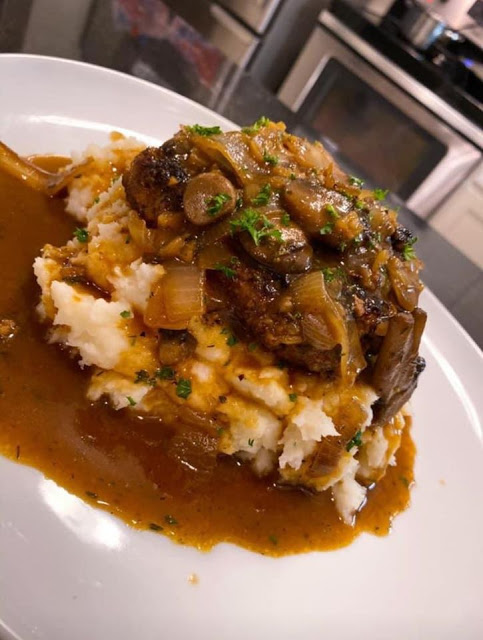 The first step to making a Salisbury steak is to shape your meat patties. I like to use 90% lean ground beef because it has a lot of flavor but is not too fat. The meat is mixed with bread crumbs and seasonings and then formed into oval shaped "steaks".
The patties are cooked until they are golden brown, then a simple sauce is prepared with onions, mushrooms, beef broth and a little cornstarch as a thickener. I usually use white button mushrooms, but other varieties of mushrooms such as cremini mushrooms would also be a good choice. I make it easy for myself by buying the mushrooms pre-sliced to save preparation time.
INGREDIENTS
For the steaks :
1/3 cup of breadcrumbs
1 egg
1 small yellow onion, grated
1 teaspoon of kosher salt
1/2 teaspoon black pepper
1 pound of lean ground beef like 90/10
1 tablespoon of extra virgin olive oil
For the mushroom sauce :
2 tablespoons of butter
8 oz. sliced mushrooms I used baby portobellas (cremini)
2 tablespoons all-purpose flour
2 cups of beef broth
kosher salt to taste
black pepper to taste
Instructions
In a large bowl, combine the grated onion (and its juice), breadcrumbs (1/3 cup), egg, kosher salt (1 teaspoon) and black pepper (1/2 teaspoon) until well blended.
Add the ground beef to the bowl and mix it with the breadcrumbs and onion mixture. I recommend using your hands for this.
Divide the beef mixture into four equal parts. The easiest way is to press the beef mixture into the bottom of the bowl and use your finger to "draw" lines dividing it into four quadrants. Form 4 oval-shaped patties with your hands, about 2.5 cm thick.
Heat a large skillet over high heat. Only when it is hot (after about 2 minutes), add the olive oil (1 tablespoon) to the pan and stir to coat.
Add the patties to the hot pan and cook them for 2 minutes on each side – they should have a nice brown color. To get the best color, do not move them until the two minutes are up.
Remove the patties and place them on a plate.
Add the butter (2 tablespoons) to the pan, then add the sliced mushrooms once they have melted.
Cook the mushrooms for 2 minutes until golden brown. Then sprinkle the flour (2 tablespoons) over the mushrooms. Stir the mushrooms, coating each one in the flour, and continue cooking for another minute.
Add the beef stock (2 cups), stirring constantly to incorporate the flour, and simmer.
Add the steak patties to the sauce mixture and simmer, uncovered, for an additional 5 minutes or until fully cooked and sauce has thickened.
Notes

Tip to save time: prepare the pancakes in advance and keep them in the refrigerator for a maximum of two days.
Money-saving tip: Look for ground beef on sale or buy it in bulk for storage in your freezer. Take it out of the freezer 24 hours before making this recipe. You can also easily make your own breadcrumbs by toasting two slices of bread and crumbling them in your food processor.
For a dairy-free version: use more olive oil instead of butter to make the sauce.
For a gluten-free version: use gluten-free breadcrumbs in steaks and use cornstarch instead of flour (added after the broth in a porridge) for the sauce.
The nutritional information provided includes no added sodium, seasoning to taste, no optional ingredients and does not take brands into account. Feel free to calculate it yourself using this calculator or by adding the recipe to Yummly.